ISL 2022-23: 'It is enjoyable to cheer for my team with fans' - Jorge Diaz ecstatic post City weekend
ISL 2022-23: Mumbai City was away from home last week, playing a brutal encounter in Kolkata against ATK Mohun Bagan and won. Meanwhile, MCFC's Jorge Diaz admitted to having a great weekend, including the Manchester derby.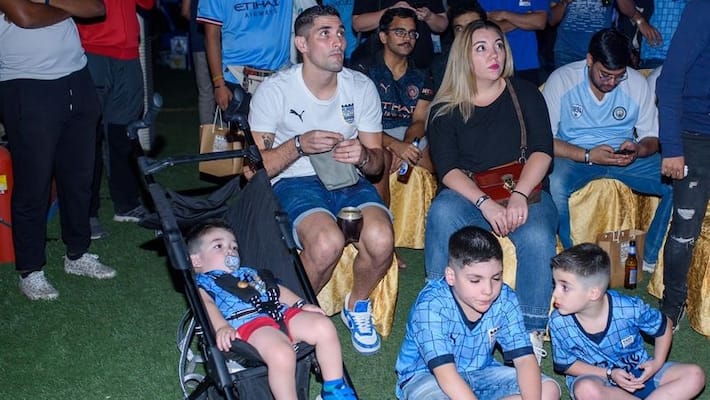 This past weekend, former Indian Super League (ISL) champion Mumbai City (MCFC) was playing away from home in what turned out to be one of its most demanding games of the season. Back at home in Mumbai, the atmosphere was electric as the Islanders fans gathered in large numbers for a screening organised by the club for the 'City' Saturday, which included the Manchester derby in the 2022-23 English Premier League (EPL) and MCFC's away meeting versus ISL giants ATK Mohun Bagan (ATKMB). The City Football Group holds MCFC and Manchester City. In November last year, Roel de Vries (CFC COO) commented on the roaring atmosphere at the ISL match.
A look at the MCFC Fan Park, where the screening was held, established the intensity of immersing the city as its home team was on a historic unbeaten run. Being on the road, MCFC head coach Des Buckingham and his men would have taken solace in the fact that back at home, hundreds of fans were completing a stadium-Esque environment for their favourite team with a particular fan in attendance.
MCFC's top goal-scorer this season, Jorge Diaz, was unavailable for the ATKMB fixture. However, he joined the West Coast Brigade, elating his team as it persisted in its run as unstoppable. "The fans have always supported the players by singing and chanting. It is terrific. It is the first time I have watched a game like this because I'm on the pitch every time. However, from what I see, I can tell you that we are a good team with good players. It is enjoyable to cheer for my team with fans," said Diaz, a Manchester City fan.
"When the match started, I asked myself, 'why did you pick up four yellow cards?' but this is also football. I will miss one game but come back stronger in the next one," Diaz added. As both City clubs were in action in potentially enthralling meetings, MCFC determined to host a screening for both of them, which tempted several football fanatics in the city, including those who were just neutral fans, as a lot of blusters were made across both games. The club's drudgeries to reach out to the provincial football base, one of the doctrines of the ISL, was a sensation as buffs got ingrained in MCFC's enormous season so far.
ALSO READ: ISL 2022-23 - 19-year-old defender Bikash Yumnam roped in by Chennaiyin FC
With six matches to go in the league stage, it is a prospect that the Islanders could go all the way without yielding a single contest. Fans observing the screenings had their fingers crossed, expecting to see their club become the first side in  ISL history to clinch the title without renouncing a single match.
"I want them to be Invincibles because they are playing beautiful and swift football this season, and I have not seen any other club in India play like that. I hope they remain unbeaten till the end. Fingers crossed," one of the fanciers at the screening expressed.
ALSO READ: ISL 2022-23 - FC Goa-NorthEast United share honours with a competitive 2-2 draw
"It's a difficult question, but the answer is that we go match-by-match. After ATK Mohun Bagan, we will focus on the next one. I cannot tell you if we will remain unbeaten in the last six games. We will give our 100% to try and win the ISL. Please support us in every match," Diaz said to the lovers.
(With inputs from PTI)
Last Updated Jan 17, 2023, 9:00 AM IST