Makeshift shelter, bhajans and more: How 232 Air India passengers survived 39 hours in Russia's Magadan -WATCH
The 232 passengers on board the Air India flight from Delhi to San Francisco, which had to make an emergency landing in the outlying Russian town of Magadan due to an engine malfunction, landed in their destination on Thursday.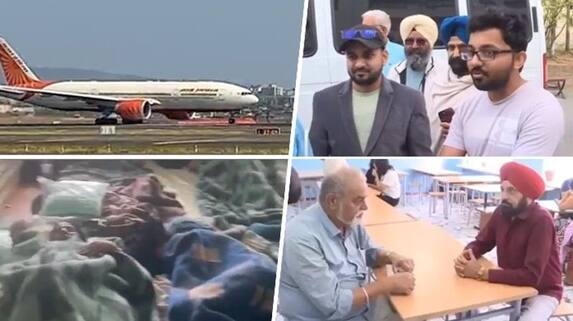 Thirty-nine hours after landing in Russia's remote town of Magadan, the 232 passengers and crew of Air India's diverted Delhi to San Francisco flight on June 6 finally departed for their destination on Thursday. What was supposed to be a 14-15 hours non-stop flight eventually turned out to be a 57-hour journey, which included uncertainty, makeshift accommodations and a few moments of camaraderie.
Flight AI173 from Delhi was diverted to Magadan in Russia on Tuesday owing to an engine glitch and the Boeing 777-200 LR plane, carrying 216 passengers and 16 crew, landed safely in the far eastern port city.
Also read: Air India Delhi-San Francisco flight makes emergency landing in Russia
According to experts in the aviation industry, diverting a flight following a snag is a safer option. Multiple senior pilots noted that the Russia route is the shortest way between India and North America and opting to take this route amid the ongoing war with Ukraine does not compromise safety of the passengers and crew. Pilots noted that landing in a small place like Magadan can be of inconvenience for flyers, given the limited options of accommodation, however, safety is of primary concern.
Given that Magadan is a small far eastern port town in Russia, the place did not have hotels to accommodate all 232 people onboard AI173. Hence, the passengers and crew had to manage their stay in makeshift accommodations like dormitories and basketball courts with many people sleeping on the floor. However, amidst uncertainty, food was provided to those stranded for 39 hours and in a video going viral on social media, a passenger was also singing a Lord Krishna 'bhajan'.
"Given the infrastructural limitations around the remote airport, we can confirm that all passengers were eventually moved to a makeshift accommodation, after making sincere attempts to accommodate passengers in hotels locally with the help of local government authorities," AI had said in a statement on Wednesday.
The statement added, "As we do not have any Air India staff based in the remote town of Magadan or in Russia, all ground support being provided to the passengers is the best possible in this unusual circumstance through our round the clock liaison with the Consulate General of India in Vladivostok, local ground handlers, and Russian authorities."
Meanwhile, a ferry flight was sent from India with engineers, crew and material to repair the engine of the aircraft stuck in Magadan and bring it back to Delhi. As for the 232 passengers and crew, a senior official of Air India on Thursday confirmed that Flight AI173D from Magadan, Russia (GDX) arrived in SFO at 12.15 am (Pacific daylight time).
Also read: Air India sends aircraft to small Russian town to evacuate 232 people on Delhi-San Francisco flight (WATCH)
At SFO, Air India organised additional on-site assistance to handle all passenger arrival clearance procedures. The staff at SFO also offered the travellers any support they may require, including medical attention, ground transportation, and onward connections.
Last Updated Jun 8, 2023, 1:04 PM IST