Kerala News HIGHLIGHTS: Confirmed! Second Vande Bharat Express to arrive soon in Kerala
Kerala News HIGHLIGHTS: Confirmed! Second Vande Bharat Express to arrive soon in Kerala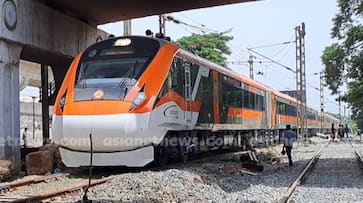 4.20 PM: Confirmed! Second Vande Bharat Express to arrive soon in Kerala
Congress MP MK Raghavan said that the second Vande Bharat Express for Kerala will arrive soon and it will operate from Mangalore to Thiruvananthapuram. The Southern Railway has given assurance in this regard. 
---
4.10 PM: Kerala HC seeks response from food safety commissioner over food packing in plastic containers
The Kerala High Court sought the Commissioner of Food Safety's response to a petition calling the Court's attention to the quality and type of the packaging materials used in the State for serving food items. In the plea, it was asked that action be taken against restaurants using plastic, uncoated paper, and newsprint to package food items.
---
3.45 PM: Supreme Court adjourns SNC Lavalin case hearing at CBI's request
The Supreme Court on Tuesday for the 34th time adjourned the hearing of the controversial SNC Lavalin case involving Chief Minister Pinarayi Vijayan at the request of CBI. The top court has directed to list the case on October 10. The case pertains to a loss of Rs 374 crore in a contract between the Kerala State Electricity Board (KSEB) and the Canadian company SNC Lavalin for the renovation and modernization of the Pallivasal, Sengulam, and Panniar hydroelectric projects in the Idukki district in 1996 when Vijayan served as the state power minister in the EK Nayanar cabinet.
---
3.30 PM: Kerala BJP Chief K Surendran asked to appear in court in Manjeshwar election bribery case
In the Manjeshwar election bribery case, all the accused, including BJP state president K Surendran, have been ordered to appear in court. He has been asked to appear in Kasaragod District Sessions Court on September 21. While hearing the case today, the court took a stand that none of the accused have appeared in court so far and this cannot be allowed. Surendran, who lost the 2021 Assembly elections at Manjeshwar in Kasaragod, allegedly gave Rs. 2.5 lakh and a mobile phone to K Sundara, a BSP candidate, and forced him to withdraw the nomination.
---
3.00 PM: Kerala to receive rainfall for next 5 days; Yellow alert in 4 districts
As a result of the influence of Cyclone, there is a chance of rain in the state for the next five days. Ernakulam, Idukki, Palakkad and Malappuram districts have been sounded with a yellow alert today. The cyclonic circulation is likely to strengthen as a low pressure over the North-West Bay of Bengal during the next 24 hours. It is likely to intensify again and move westward, north-westward towards south Odisha - north Andhra coast. Moderate/moderate rainfall is likely to continue in Kerala for the next 5 days.
---
2.00 PM: Aluva sexual assault and murder case: Trial to begin on September 16
The trial proceedings in the murder case of a five-year-old girl in Aluva will begin on September 16. The Ernakulam POCSO Court which heard the case today heard preliminary arguments on whether the charges against accused Ashfaq Alam would be sustained. The prosecution argued that all the ten sections charged against the accused will remain.
---
1.30 PM: Nipah scare: Control room to be set up in Kozhikode, says Health Minister
Four people who are suspected to have contracted the Nipah virus are currently receiving treatment at a hospital in Kozhikode, according to Health Minister Veena George.  This includes the wife and children of the person who is suspected to have succumbed to the disease earlier. The minister said that a 75-member- primary contact list of the suspected Nipah victims has been prepared now.
---
12.30 PM: Kerala man conducts wedding of tribal couple along with daughter's wedding 
The wedding of a tribal couple was conducted by Ranni panchayat president K R Prakash at the venue of his daughter's wedding as a kind gesture. Prakash utilised the money to make a poor girl's wish come true by setting up a simple marriage for his sole daughter Athira.
Read More: Kerala man conducts wedding of tribal couple along with daughter's wedding
---
12.00 PM: Nipah: Result of samples will be received in the evening, says Health Minister Veena George 
According to Tuesday's statement from Health Minister Veena George, samples from suspected Nipah virus cases have been forwarded to the Pune Virology Institute (NIV), and results will be available by Tuesday evening. The minister informed the local media that samples from one of the deceased and those who displayed symptoms had been sent for testing. According to George, control rooms will be opened in the district and vigilance will be strengthened in hospitals. The minister also suggested that unnecessary visits to hospitals should be avoided. The minister added that those who came in close contact with those with Nipah symptoms will be shifted to isolation wards and currently there are 75 people on the contact list.
---
11.00 AM: Four-member family found dead in Kochi 
A family of four members were found dead at their residence in Kadamakudy in Ernakulam. The deceased are  Nijo (39), his wife Shilpa (29), and their two children Angel (7) and Aron (5). According to reports, Nijo and wife died by suicide after killing their children due to financial issues. Nijo and Shilpa were found hanging while the children were reportedly poisoned to death.
---
10.00 AM: Rat destroys wiring of X-ray machine in Palakkad district hospital
An x-ray machine worth Rs 92.6 lakh received through donation at Palakkad district hospital was destroyed by rat bites. Based on the complaint filed by a social activist Boban Mattumantha, the Vigilance unit of Ernakulam will launch an investigation. The health department had given a report that about Rs 31.91 lakh will be needed for the repair of the machine which was destroyed by rat bites.
---
9.30 AM: NIA busts ISIS ploy to create base in Kerala; one in custody
The National Investigation Agency (NIA) foiled a plot to form an Islamic State (IS) group in Kerala. The central agency nabbed one person who allegedly tried to form the IS in Kerala through a Telegram group called Pet Lovers. The arrested accused is identified as Nabeel Ahmed, a native of Thrissur district. 
Read More: NIA busts ISIS ploy to create base in Kerala; one in custody
---
8.45 AM: Health Minister Veena George to head to Kozhikode over Nipah virus concerns
Health Minister Veena George has headed to Kozhikode due to Nipah virus suspicion. Soon after reaching Kozhikode, the minister will assess the situation. A high-level meeting will be held at 10.30 am to decide the next course of action. 
---
8.15 AM: First ship carrying cranes from China to dock at Vizhinjam port on October 4
The first ship carrying cranes from China will dock at Vizhinjam port on October 4. Chief Minister Pinarayi Vijayan and Union Minister for Ports Sarbananda Sonowal will take part in a function to be organised at the Adani-run Vizhinjam Port to receive the ship.
---
7.49 AM: IMD predicts rainfall in isolated places; Yellow alert in 3 districts
There is a possibility of rainfall in isolated places in the state today. The IMD has issued a yellow alert in Idukki, Ernakulam and Malappuram districts. 
---
7.45 AM: Nipah alert issued in Kozhikode district
The health department has issued a Nipah virus alert in Kozhikode district following the death of two persons last day. Two men succumbed to fever displaying symptoms of 'Nipah'. 
Read more: Kerala: Two deaths in Kozhikode spark Nipah virus concerns
Last Updated Sep 12, 2023, 5:07 PM IST