Kerala man conducts wedding of tribal couple along with daughter's wedding
Pathanamthitta's Ranni panchayat president K R Prakash conducted the wedding of a tribal couple along with his only daughter's wedding in a goodwill gesture.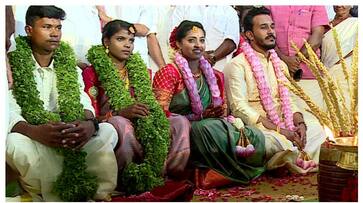 Pathanamthitta: The wedding of a tribal couple was conducted by Ranni panchayat president K R Prakash at the venue of his daughter's wedding as a kind gesture. Prakash utilised the money to make a poor girl's wish come true by setting up a simple marriage for his sole daughter Athira.
Also read: NIA busts ISIS ploy to create base in Kerala; one in custody
Soon after Athira's wedding, the following pair made their grand entrance at the same location with the Nilavilakku (traditional lamp) and Thalapoli. In accordance with tribal norms, Somini and Rajimon got married. By planning a simple wedding ceremony for his only daughter Athira, Prakash gave the couple a new life. Several people attended the wedding to bless the newlywed couples.
According to Prakash, a decision has been made to bring the couple out from the tribal community and make them stand on their own. This, according to his daughter Athira, is the best wedding gift her father has ever given. "I'm glad the girl also wed at the same wedding location. Have nothing to say. My eyes were beaming with joy," Athira said.
 
Last Updated Sep 12, 2023, 12:17 PM IST