KCR packs up TRS, goes national with Bharat Rashtra Samithi
Telangana Chief Minister K Chandrashekar Rao announced his foray into national politics with the launch of his national party on Thursday. KCR announced the renaming of his TRS party as Bharatiya Rashtra Samiti (BRS).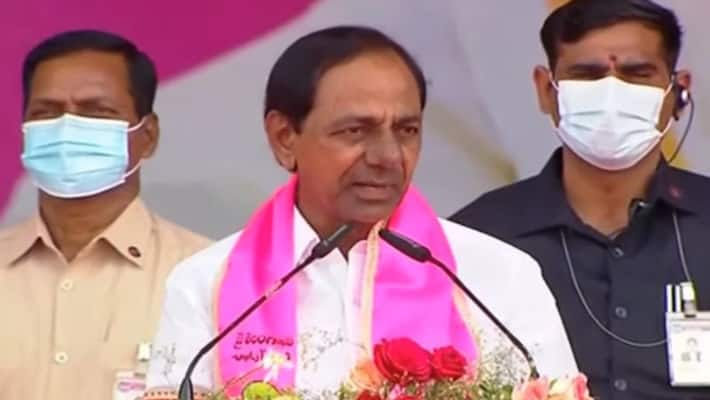 Telangana Chief Minister K Chandrasekhar Rao on Wednesday launched the Bharat Rashtra Samithi (BRS), a new version of his party, at the prescribed "auspicious time" of 1.19 p.m. Rao stated that the Telangana Rashtra Samithi (TRS) is now the BRS.
The national party was launched on the occasion of Dussehra at the TRS headquarters Telangana Bhavan in Hyderabad. The event was attended by over 250 party leaders, ministers, MPs, MLAs, MLCs and district level coordinators.  The party will most likely retain its election symbol of car and its pink colour. The name change decision will be conveyed to the Election Commission in person on October 6.
Also Read | Army Cheetah helicopter crashes near Tawang; pilot dead
The decision to rechristen TRS to BRS has been taken in the General body meeting. A resolution has been passed by TRS General Body. The party plans to field candidates for the 2024 Lok Sabha elections from several states.
Meanwhile, Christian leaders pledged their support to the ruling TRS and wished chief minister K Chandrashekar Rao luck on his entry onto the national scene. A resolution has been passed unanimously by several leaders of the faith regarding the same.
Since 2018, KCR has frequently stated that "very soon, the foundation of a national party and the development of its programmes will take place." He believes that both the BJP and the Congress have failed the country and has called for a stronger partnership.
Also Read | 'Armed forces are real pride of India': Rajnath Singh hails soldiers' valour; performs 'Shastra Puja' in Auli
Rao, widely known as KCR, met with a number of political figures, including his equivalents from other states, including Mamata Banerjee (Bengal), Nitish Kumar (Bihar), Arvind Kejriwal, MK Stalin, Pinarayi Vijayan, and Naveen Patnaik.
Last Updated Oct 5, 2022, 1:49 PM IST