Watch: Indore Man dies of heart attack while exercising at gym
An Indore hotel owner's video, who died while working out at a gym, has emerged on social media. The man was identified as 55-year-old Pradeep, the owner of Hotel Vrindavan.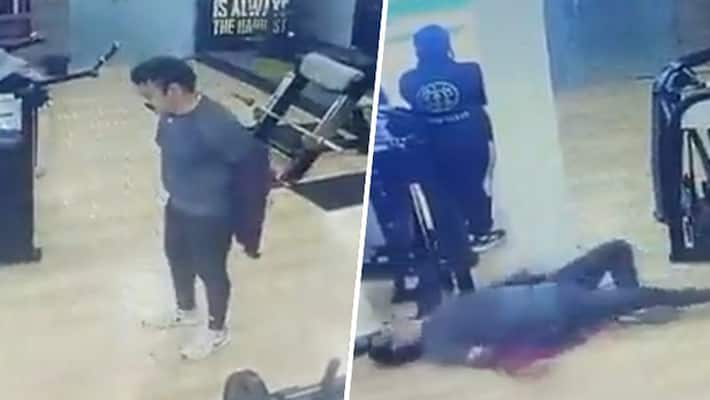 A shocking CCTV footage from Indore gym has surfaced online. In the video, a man died while exercising after a heart attack. The unfortunate incident happened on Thursday (Jan 5) at Gold's Gym, Scheme No 78. According to the sources, the deceased recognised as Pradeep Raghuvanshi, a 55-year-old man, who was the owner of Hotel Vrindavan, died after working out on a treadmill. 
The 20-second-long video shows a man walking from a corner and sweating after exercising. So he decides to take off his jacket, and while doing so, he starts to feel dizzy and attempts to take support from a nearby table. However, the hotel owner gasped for air and collapsed on the ground. Immediately, the gym trainer and the people present nearby rushed him to the local hospital, where the medical staff declared him brought dead.
Also Read: Watch: Angry cobra charges at man after he tries to shoot it; spine-chilling video goes viral
Pradeep's gym instructor confirmed that the deceased is their customer and regularly visits the gym for a workout. The gym trainer also said that Pradeep suddenly suffered a heart attack, and within a few minutes, everything was over. According to sources, Pradeep was said to be one of the close aides of BJP national general secretary Kailash Vijayvargiya. 
Recently, many cardiologists said that a thorough medical checkup is mandatory for people above 40 years before joining a gym or working out.  
This is not the first time a person has died while working out. A few days back, a 33-year-old gym trainer died of cardiac arrest while sitting on a chair. The tragic incident occurred in Uttar Pradesh's Ghaziabad and was caught on CCTV camera. Also, comedian Raju Srivastav suffered a cardiac arrest while exercising on a treadmill. Reportedly, he was doing his routine workout and fell while on the treadmill. Sandalwood actor Puneeth Rajkumar also died after a cardiac arrest while working out in the gym. Watch the video.
Also Read: Watch: Helicopter pilot loses control after takeoff, here's what happens next
Last Updated Jan 6, 2023, 7:53 PM IST