Delhi roadshow: PM welcomed with 'Modi, Modi' chants, showered with flowers
A huge and enthusiastic crowd gathered to witness Prime Minister Narendra Modi's mega roadshow. They gathered in the midst of four-layered security arrangements. The roadshow was held between Sardar Patel Marg and the NDMC Convention Centre in Central Delhi.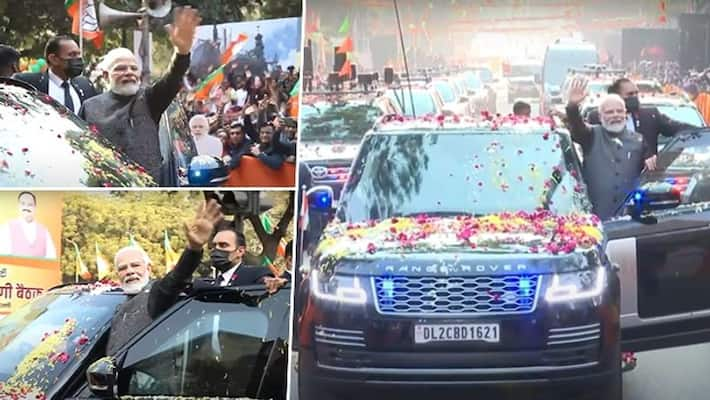 Large crowds welcomed Prime Minister Narendra Modi during the BJP roadshow held in New Delhi on Monday. In Central Delhi, the roadshow took place between Sardar Patel Marg and the NDMC Convention Center. While the PM waved to his supporters from his automobile during the roadshow, energised BJP activists and supporters lined the streets and welcomed him with flower petals and cheers.
Folk artistes from several states performed on some of them, while others blared patriotic songs. Along the route were large cutouts of the Prime Minister, as well as a number of banners showcasing the government's many projects and India's G20 leadership.
Also Read | Mumbai to record coldest weather as temperature likely to drop to 13 degree celsius today
At the mega event, visuals showed a sea of crowd as enthusiastic party workers and locals gathered in the midst of four-layered security arrangements.
Union Ministers Nirmala Sitharaman, Rajnath Singh, and S. Jaishankar were among the prominent BJP figures who indicated their participation at the roadshow.
Also Read | 'Orchestrated confrontation to intimidate and capture judiciary': Congress slams Centre over its letter to CJI
Prior to Prime Minister Narendra Modi's tour today, the Patel Chowk neighbourhood hosted cultural events and music. As the BJP was ready to honour the PM for the historic victory in Gujarat, the entire city was filled with celebratory energy. Since the Gujarat Assembly elections, the BJP has not had a national conference.
A youth was observed running toward the prime minister last week as he was leading a roadshow in Hubbali, Karnataka, raising questions about his safety. However, the police eventually claimed that because everyone had been searched and frisked, the occurrence could not be considered a security violation.
Also Read | Nepal plane crash: Did you know Yeti Airlines aircraft was previously owned by Kingfisher Airlines?
Last Updated Jan 16, 2023, 7:05 PM IST