Congress to soon launch 'Haath se Haath jodo' campaign for women
Priyanka Gandhi Vadra has been tasked with organising the "Haath Se Haath Jodo" campaign across the nation, with a focus on women in particular. Sources informed that Priyanka would lead a wave of marches with women cadres in March, focussing on rising inflation and its impact on the public, especially the middle class.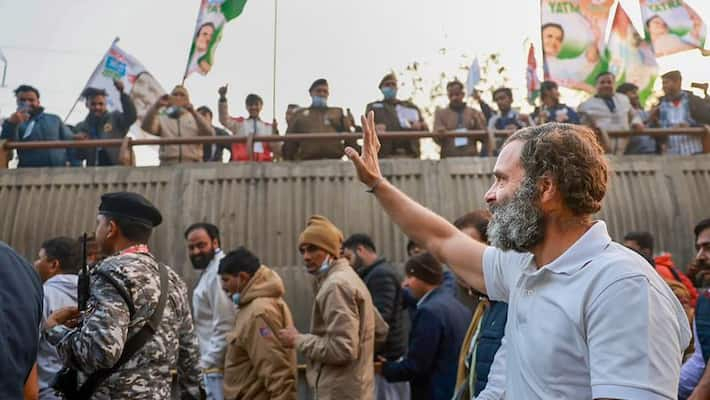 After a nine-day winter hiatus from Uttar Pradesh, the "Bharat Jodo Yatra" led by Congress leader Rahul Gandhi will continue today. Over 3,000 kilometres have been marched during the yatra's more than 110-day journey. Before the break, the yatra travelled from the southern states to Rajasthan and Delhi.
The Yatra has so far travelled across sections of Tamil Nadu, Kerala, Karnataka, Andhra Pradesh, Telangana, Madhya Pradesh, Rajasthan, Maharashtra, and Haryana. It began on September 7 at Kanyakumari. Jammu and Kashmir will serve as its finale.
Also Read | Alcohol worth Rs 218 crore sold in Delhi during last week of 2022
According to the Congress, it is the longest foot march by an Indian politician in Indian history. In the meantime, the Congress is preparing to launch the "Haath Se Haath Jodo" campaign, which is intended to spread the message of the yatra across the nation, after the ongoing "Bharat Jodo Yatra," which is to culminate in Srinagar on January 26.
With this yatra, Rahul Gandhi hopes to mobilise the party cadre and unite the general public against the BJP's "divisive politics in the country."
Priyanka Gandhi Vadra, national general secretary of the AICC, has reportedly been given the task of directing the "Haath Se Haath Jodo" campaign across the nation with an emphasis on women by the former president of the Congress.
Also Read | Budget session of Parliament to start from January 31, Union Budget to be presented on February 1
"After the Bharat Jodo Yatra, the Congress will begin a two-month "Hath Se Hath Jodo Campaign," according to Congress national secretary KC Venugopal.
Priyanka Gandhi Vadra will direct marches and rallies on foot with female participants in each state capital as part of this campaign to promote the word about the "Bharat Jodo Yatra." Priyanka will lead a wave of marches in March with women cadres, focusing on growing inflation and its effects on the general population, especially the middle class, according to further sources.
Other female-related topics will also be a major focal point. Priyanka is the face of the Congress campaign, which aims to win over women voters, who make up almost 50% of the electorate.
Also read: Bharat Jodo Yatra: Akhilesh Yadav thanks Rahul Gandhi for invitation; but will not participate
Last Updated Jan 3, 2023, 9:55 AM IST