Amrit Kalash Yatra train departs from Bengaluru to Delhi on October 27
The Amrit Kalash Yatra train, departing from Bengaluru's SMVT, carries sacred soil and saplings from 7500 regions across India to the 'Amrita Vatika' garden near Delhi's National War Memorial. This journey symbolizes unity and commemorates the Amrita Mahotsava of Independence, reflecting the diversity and harmony of the nation. The train travels from Bengaluru to Delhi and back, emphasizing the shared commitment to the homeland.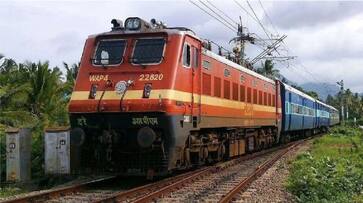 The Amrit Kalash Yatra train, loaded with sacred pots carrying soil and saplings from across the nation, is all set to embark on its voyage from Bengaluru's Sir M. Visvesvaraya Terminal (SMVT) to Delhi. The train, officially known as the SMVT Bengaluru-Nizamuddin-SMVT Bengaluru Special Train (Train No. 06507/06508), will commence its journey today at 1:30 PM from SMVT Bengaluru Railway Station.
The Amrit Kalash Yatra is significant as it commemorates the Amrita Mahotsava of Independence. This unique journey involves the transportation of soil and saplings from 7500 different regions of India, each contained in a dedicated pot. These precious materials will find their new home in the 'Amrita Vatika' garden, which is located near the National War Memorial in Delhi.

'Just like Moon, India will reach near the Sun': Amit Shah at 'Meri Mati-Mera Desh' event
The 'Amrita Vatika' garden project is not just a horticultural endeavour; it symbolizes the unity of the nation under the banner of 'Ek Bharat Shrestha Bharat.' As the 7500 pots are planted in this garden, it will become a grand symbol of India's diversity and unity.

Commuter shares ex-Google employee explores Bengaluru streets as Uber moto driver, Netizens react
From Karnataka alone, 234 Kalash pots are being transported to Delhi as part of this significant journey. To facilitate this Amrit Kalash Yatra, the South Western Railway Department announced that the special train will travel from SMVT Bengaluru to Nizamuddin in Delhi and then return to its origin at the Bengaluru SMVT station.
The most poignant moment of the day is the harmonious collection of 'Mitti' from various places, representing the unity and shared commitment of the people to their homeland.
Last Updated Oct 27, 2023, 9:32 AM IST