Maldives' pro-China shift: Experts decode the implications of requesting Indian military withdrawal
Maldives new President's formal requests India to withdraw military personnel has raised concerns about a shift in the "India first" policy, as experts analyze the geopolitical implications and potential influence of China in the region.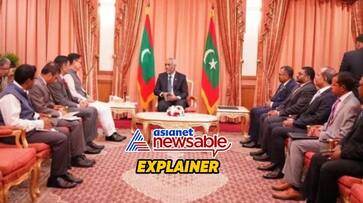 New Delhi: Maldives' new President Mohamed Muizzu on Saturday formally requested India to withdraw its military personnel from his nation. During his election campaign, Muizzu had promised to alter the tiny Indian Ocean archipelago's "India first" policy. The outgoing president Ibrahim Mohamed Solih is known for being pro-India while the new president who took oath on Friday is close to China. New Delhi and Beijing have been vying for influence in the region for long.
Asianet Newsable spoke with two experts on the latest development and here's what they had to say:
Global Strategic and Military Analyst, Major General SB Asthana (R) said, "The pro-China leader who has come into power, he has been raising the point for quite some time. He had made it an election agenda. However, on the ground, it doesn't affect very much because there are very few personnel and they are just maintaining the equipment which is in use. So this is not a decision that is in the interest of Maldives. It is a political point that he wants to score because he had made it an election promise."
Also read: Experts: Maldives may rethink when reality dawns; for now, it is advantage China
Asthana also said that the new Maldives president is not acting on his behalf or in the interest of Maldives but he is acting perhaps or allegedly on behalf of some external power, which could have funded his election campaign.
"As far as the current situation is concerned, now he has taken the oath it may well happen that he may change his stance after some time. Now, his political aim has been achieved and maybe now he starts thinking of the national interest of Maldives. In that context, he may not pursue this. But it depends on how much leverage the external power would give him," Gen Asthana said.
Maldives has a huge dependency on India
Gen Asthana further said, "It's a serious issue because the dependency of Maldives on India is very much and the location is also such that the external power, who are interfering or who would have interfered or allegedly interfering may not be that effective to India. Because even today, the inflow of maximum tourists is from India and not from other countries. Maldives dependency is tremendous on India."
China's role in Maldives
"As far as China is concerned, it is more into debt due to China and having seen the situation of other countries who were in debt with China and their economy collapsing he may have to mend his ways a little later. As of now, he is playing with the political rhetoric and that rhetoric could have some external compulsions. Certainly, it's not in the interest of Maldives," he said.
Keep the backdoor channel open
Captain Sarabjit Singh Parmar (R), a distinguished fellow at the United Service Institution of India suggested having backdoor channels open so that the security and peace in the region prevail.
"The formal request by the Maldivian president will force not only India but several nations' stability, security and peace factors which have been in existence in the Indian Ocean Region. We have been asked to leave as obviously the protocol will demand and we have to listen to them and then keep the backdoor channel open," he said.
He further noted, "The most important question is who will open the door because obviously, they cannot maintain their own security and peace issues. (For example: the ease of surveillance which India has been assisting the island nation for a long time. Let's assume that it's China as there is dialogue with China and the new president is known to be pro-China then that sort will impact the stability questions."
Also read: Maldives and India to discuss workable solutions: Sources on Male seeking exit of Indian military personnel
Be in wait-and-watch mode
"We need to relook not only India but all nations who are surrounding the region, including the US, France and the United Kingdom who have territories, bases and presence here. … A lot of dialogues will come under questions like the Colombo Security Dialogue which started with India, Sri Lanka and Maldives… There were lots of issues where the Maldives were engaged…. We will just have to wait and watch as to which direction Maldives is going," Captain SS Parmar noted.
"We have to ensure that the stability, peace and security prevail as it has been for so many years even if it is to engage a new player even if you don't like the player," he concluded.
Last Updated Nov 19, 2023, 6:13 PM IST