Indian naval destroyer tests BrahMos in the Bay of Bengal
The Indian Navy successfully test-fired a BrahMos missile in the Bay of Bengal, achieving all mission objectives. This test comes weeks after the Indian Air Force's successful trial of the extended-range (ER) air-launched BrahMos missile.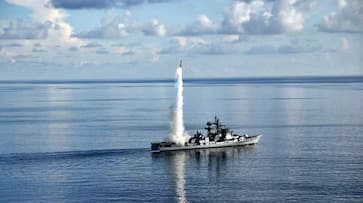 The Indian Navy carried out yet another successful test-firing of the BrahMos missile in the Bay of Bengal. The Navy announced this accomplishment via social media platform X (formerly Twitter), noting that the missile was launched from one of its Eastern Fleet destroyers and met all mission objectives. This is not the first time the Indian Navy has tested the BrahMos cruise missile. In May 2023, the Navy conducted a successful test of the supersonic cruise missile using its frontline guided missile ship, INS Mormugao. Earlier in March, the Indian Navy had also demonstrated the capabilities of the ship-launched version of the BrahMos supersonic missile in the Arabian Sea. These missile tests highlighted the Navy's significant firepower at sea.
BrahMos Aerospace Pvt Ltd, a joint venture between India and Russia, specializes in the manufacturing of supersonic cruise missiles that can be launched from submarines, ships, aircraft, or land platforms. The BrahMos missile is renowned for its remarkable speed, travelling at 2.8 Mach, nearly three times the speed of sound. India also exports BrahMos missiles to other countries. A critical component of the BrahMos missile is its advanced Ramjet engine, which is of Russian origin. India is currently collaborating with Russia to achieve indigenous production of this engine, with an estimated timeline of about seven years for this goal.
The recent test follows the successful test-firing of the extended-range (ER) variant of the air-launched BrahMos missile by the Indian Air Force. This development has expanded the missile's range, enabling it to strike targets at longer distances. The extended-range BrahMos variant has the capability to strike both land and sea targets at a maximum range of 400 to 500 kilometres while maintaining supersonic speed throughout its flight.
In March 2023, India finalized a deal with Brahmos Aerospace Private Limited (BAPL), a joint venture between India and Russia, for the procurement of Next Generation Brahmos Maritime Mobile Coastal Batteries Long Range (NGMMCB LR) and Brahmos missiles at a cost exceeding Rs 1700 Crore. This further enhances India's defence capabilities.
Recently, the Indian Navy took delivery of the third Project 15B Class guided missile destroyer, INS Imphal, equipped with the ability to launch supersonic surface-to-surface BrahMos missiles. This marks a significant advancement in India's naval capabilities, with upgraded BrahMos missiles designed for both long-range and land attack missions.
Also Read: Karnataka ranks 5th in India for road accidents: Over 50000 people died because they did not wear helmets
Also Read: Indian Army inches closer to inducting women as jawans via Agnipath
Last Updated Nov 1, 2023, 12:47 PM IST