CISF Raising Day Today: History, significance and duties of the force
The Central Industrial Security Force is celebrating its 54th Raising Day on March 10.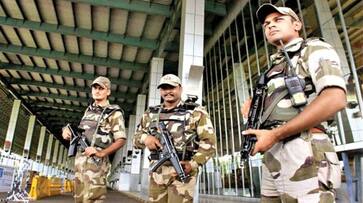 CISF Formation Day is celebrated on March 10th every year to commemorate the establishment of the Central Industrial Security Force (CISF) in 1969. The CISF was created under an act of the Indian Parliament to provide security cover to the Public Sector Undertakings (PSUs) and other critical infrastructure facilities in the country.
Don't Miss: Under Modi, India more likely to respond to Pakistan's provocations with force than in the past: US intel report
About 1,64 lakh CISF personnel currently guard 354 sensitive and critical installations and more than 65 sensitive nuclear units, space institutes, airports, seaports, oil, coal, and steel production sites and sea oil production plants. The CISF is believed to be the only industrial security force in the whole world which is composed of government personnel and which is very efficiently discharging their duty.
The key responsibilities of the CISF are as follows:
* Security of critical infrastructure facilities: The CISF is responsible for providing security cover to a range of critical infrastructure facilities, including airports, seaports, power plants, oil refineries, and nuclear installations.
* Protection of public sector undertakings: The CISF is tasked with securing the assets and employees of various public sector undertakings, including banks, insurance companies, and government offices.
* VIP security: The CISF also provides security cover to various VIPs, including ministers, judges, and other high-ranking officials.
* Disaster management: The CISF is trained to handle various types of disasters, including natural disasters, chemical and biological disasters, and radiological emergencies.
* Crowd control: The CISF is deployed during major events and festivals to maintain law and order and prevent any untoward incidents.
* Security consultancy: The CISF provides security consultancy services to various organizations, including PSUs, private companies, and foreign governments.
Overall, the CISF plays a crucial role in ensuring the security and safety of the nation's critical infrastructure and assets.
Don't Miss: Bengaluru: How a Class 9 boy impressed PM Modi with unique 'waste to wealth' recycling initiative
Last Updated Mar 10, 2023, 5:07 AM IST