Apple discontinues leather Watch straps and iPhone cases, to opt for 'FineWoven' now
At its 'Wonderlust' event, Apple revealed its environmental initiatives. The company announced to replace plastic and leather products with 'FineWoven'. Apple Watch bands for the new Watch 9 series are made of FineWoven and Apple's first carbon-neutral products.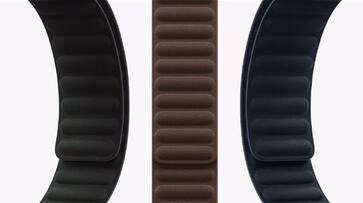 Apple hosted its 'Wonderlust' event on Tuesday, unveiling the next-generation iPhone 15 and Apple Watch lineup. In addition to innovative improvements and functionality, these new gadgets stress environmental sustainability. According to its pledge to offer carbon-neutral goods, the company has announced plans to phase out all plastic packaging by the end of 2024 and achieve a net-zero climate impact from its devices by sourcing crucial components like gold, cobalt, and aluminium from recycled materials by 2030.
The Cupertino-based tech giant has announced its gradual phase-out of plastic and leather products from its range, opting for a material called 'FineWoven.' With 68% post-consumer recycled content, this fabric is said to be manufactured from recycled materials and deliver a sumptuous and durable microtwill with much reduced carbon emissions than leather.
Also Read | Apple introduces AirPods Pro 2nd Gen with USB-C charging; Here's how much it will cost in India
These are Apple's first ever carbon-neutral goods thanks to the use of innovative FineWoven material in the bands for the Apple Watch Series 9 and Apple Watch Ultra 2. Apple also made a big deal out of the redesigned Apple Watch box, which is now made entirely of fibre and has a new badge designating carbon-neutral versions.
Additionally, the second-generation Apple Watch Ultra 2 uses more than 95% recycled titanium, which is a substantial improvement over the first model's usage of 100% virgin titanium.
All of these adjustments are in accordance with Apple's pledge to use more recycled materials and produce with no carbon emissions by 2030. To accomplish this challenging objective, which intends to lower emissions by 75% by the end of the decade, the corporation is also collaborating with more than 50 suppliers in the United States, Europe, and Asia.
Also Read | Apple Watch Series 9, Watch Ultra 2 revealed! Check out new features, price, other details
Last Updated Sep 13, 2023, 11:16 AM IST