Why Priyanka Chopra opted for surrogacy? Here's what Malti Marie's mother has to say
Priyanka Chopra recently opened out about having her daughter Malti Marie through surrogacy and the difficulties she endured. 'I had medical complications', the actress said.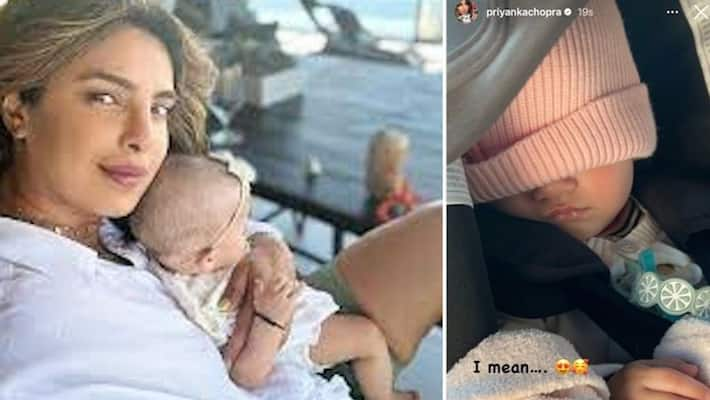 The acclaimed actress Priyanka Chopra is relishing her new mother job. In January 2022, the iconic diva and her husband, famed actor-singer Nick Jonas, had their first child, daughter Malti Marie, via surrogacy. The worldwide superstar has set an example by juggling her personal life and acting profession like a boss.
She is also an entrepreneur, owning the Indian restaurant Sona in New York and the haircare company Anomaly. Meanwhile, Priyanka Chopra revealed why she chose surrogacy in a recent interview with Vogue.
Also Read: 'Sambhal ke giro': Nora Fatehi trolled by Instagram users for humourous slip of tongue
In an interview with Vogue, Priyanka Chopra explained why she and her husband Nick Jonas chose surrogacy to have their baby girl. "I had medical issues," the acclaimed actress admitted, preferring to keep the circumstances that led to their decisions completely secret. "This was an essential step. And I'm really thankful that I was in a position to accomplish this "Priyanka Chopra remarked. In an interview with Vogue, the Matrix Resurrections actress also discussed her surrogate. "Our surrogate was quite generous. She is charming, sweet, and amusing, and she looked after this great present for us for six months "She stated.
"You don't know who I am. You have no idea what I've gone through. And just because I don't want to make my or my daughter's medical history public doesn't give you the right to make up whatever the reasons were "Priyanka Chopra explained why she does not want to disclose her surrogacy experience.
In her interview with Vogue, Priyanka Chopra addressed the concerns surrounding her surrogacy. The actress, who has stated that she is unconcerned about what others think of her, has also stated that she cannot tolerate it when the public criticises her little daughter. "When people talk about me, I've created a thick exterior. But it hurts so much when they bring up my daughter. 'Keep her out of it,' I say. I remember how it felt to grasp her small hands while they were attempting to find her veins. So, no, she's not going to be the gossip," Priyanka said. "I've been quite protective of this stage of my life with my kid. Because it isn't just about my life. It is hers too," she added.
Also Read: 'I have accepted Islam... ' Rakhi Sawant converts after marriage with Adil Khan Durrani
For the uninitiated, Priyanka Chopra and Nick Jonas were viciously lambasted by netizens and even many renowned people for choosing surrogacy. The new mother was accused of "outsourcing" her pregnancy and even "renting" a womb in order to have a "ready-made" kid. A well-known journalist even questioned Priyanka Chopra's motivation for choosing surrogacy, implying that the actress may not have the same mother love to her baby.
Priyanka Chopra also talked about Malti Marie's health condition
In her interview with Vogue, Priyanka Chopra also discussed Malti Marie's medical condition and the struggles she had as a newborn. The actress disclosed that her daughter was delivered prematurely, a full trimester ahead of her due date. "When she was born, I was in the operating room. She was little, hardly bigger than my hand. I seen what the nurses perform in the intensive-care unit. They carry out God's will. Both Nick and I were standing nearby as they intubated her. I'm not sure how they located what they needed to intubate her in her little physique "remembered the actor.
Malti Marie was born during the Omicron wave that rocked the United States in 2022, making life more difficult for the pair. Both Priyanka Chopra and Nick were required to attend the Neonatal Intensive Care Unit at Rady Children's Hospital in La Jolla, Los Angeles, on a daily basis for the following three months, according to Priyanka Chopra. "Every day, we spent with her on my chest and my husband's chest. I wasn't sure if she'd make it or not "The actress stated.
 
Last Updated Jan 20, 2023, 8:32 AM IST