Video: Playboy covergirl Sherlyn Chopra wants to marry Rahul Gandhi, but has THIS special condition-WATCH
Actress and model Sherlyn Chopra raised eyebrows when she voiced interest in marrying Congress leader Rahul Gandhi. The video of this light-hearted interaction has since gone viral on social media platforms.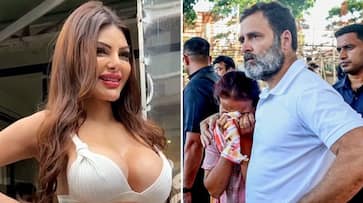 Sherlyn Chopra, known for her outspoken and badass nature, has drawn the media's attention again. She was asked if she would consider marrying Congress leader Rahul Gandhi during a lighthearted engagement with fans and photographers. Surprisingly, she replied positively, but with one condition. The video of this amusing interaction has subsequently gone popular on social media.
Sherlyn, frequently photographed by photographers, was spotted at Bandra Bandstand. She was spotted wearing a bright pink feathery sleeveless crop top with a little black skirt and hanging earrings. A paparazzo approached her about marrying Rahul Gandhi as she was busy taking photographs with bystanders. "Yes, why not," Sherlyn said. However, I want to keep my surname (Chopra) after marriage."
Also Read: Video: Alia Bhatt teaches Telugu to her 'Heart of Stone' co-star Gal Gadot-WATCH
Here's the link to the video:
While Sherlyn's remark has gotten much attention, Rahul Gandhi has yet to answer. Rahul Gandhi has been re-elected to the Lok Sabha from Kerala's Wayanad seat.
Who is Sherlyn Chopra?
Sherlyn Chopra, a Bigg Boss 3 competitor, is best known for her daring photoshoots. Sherlyn is not afraid to exhibit her bravado on social media. Among her films are 'Dosti: Friends Forever' (2005), 'Red Swastik' (2007), and 'Wajah Tum Ho' (2016). She will soon return to the screen in Season 2 of Paurashpur.
Also Read: 'Gadar 2': Sunny Deol, Ameesha Patel's film sells more than 76,000 tickets for opening day

Sherlyn is no stranger to making bold remarks and expressing herself authentically on social media. She filed a molestation allegation against a Mumbai-based financier at Juhu Police Station last month. Sherlyn said that the financier sexually abused her while pretending to offer her money in exchange for a video recording, escalating to threats and verbal abuse when she denied his advances.
She also gained prominence for speaking out against #MeToo accuser Sajid Khan's participation in 'Bigg Boss 16'. 
Last Updated Aug 8, 2023, 10:22 AM IST