'UT 69': Raj Kundra all set for his debut film based on his life; read details
Businessman Raj Kundra has finally announced a film titled 'UT 69' based on his life. Raj has announced the film by sharing a hilarious video featuring Farah Khan and Munawar Faruqui.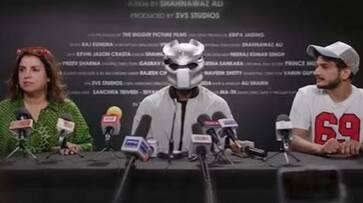 Raj Kundra made news in 2021 after being arrested in a pornographic case. Following that, the billionaire was frequently photographed in the city while donning distinctive masks to conceal his face. Kundra has now taken on the role of an actor as well. Shilpa Shetty's spouse is working on a documentary on his life and the issue. Raj has formally launched the project by posting a humorous video with Farah Khan, a director, and Munawar Faruqui, a comedian-rapper. 'UT 69' will be released on November 3.
Raj Kundra, Shilpa Shetty's husband, is scheduled to make his acting debut. The film's producers are in the last stages of telling the narrative of Raj's traumatic and life-changing experiences while incarcerated in India's Arthur Road Jail for his claimed role in the pornographic material controversy.
Also Read: Playboy Magazine fires Mia Khalifa for 'disgusting' remarks praising Hamas
Raj Kundra formally announced the film based on his life on October 9. 'UT 69' is the title of the biographical film. He announced the news with a humorous video on Instagram. Farah Khan and Munawar Faruqui also appear. The caption on the post was, "Thank you @farahkhankunder @munawar.faruqui But it's time for the 'INSIDE' story! UT69 releasing in theaters 3rd November 2023 @UT69Movie #UT69 #BasedOnATrueStory (sic)."
Also Read: Umrao Jaan to Khoobsurat: 7 iconic films of Rekha on her birthday
The video is based on a press conference setup. It shows Farah getting annoyed when a journalist asks why she made the film. Munawar says jokingly, "Paise ke liye (for the sake of money)." Farah then says that she held this press conference to clarify that she has not made the film. "I've nothing to do with it", she said.
A journalist then asks who made the film. Raj Kundra responds that he has made it and he is also going to act in the film. Munawar says, "Raj ki ye film mein story hai (there is a story in Raj's film)," and Farah adds, "Ek scene bhi hai. 1 ticket pe 6 ticket free (there is a scene also where six tickets are free for one)."
Raj finally shares that his film will be released this year on November 3.
About Raj Kundra's porn scandal
The Raj Kundra porn scandal was one of the most controversial issues in 2021, causing outrage across the country. According to a source, "the film will present an account of everything Raj Kundra experienced during his tenure in one of the most overcrowded Jails - Arthur Road Jail." The director's identity is being withheld for the time being, but Raj Kundra will be artistically involved in all elements of the film, from production to narrative. It will follow Raj Kundra's complete journey, from the initial reports of the charges through media coverage, time spent in jail, and bail. It's more of a narrative told from Kundra's and her family's perspective."
The Mumbai Police arrested Raj Kundra for suspected participation in producing and distributing pornographic films. The controversy occurred in 2021.
 
Last Updated Oct 10, 2023, 9:49 AM IST