Playboy Magazine fires Mia Khalifa for 'disgusting' remarks praising Hamas
Playboy Magazine has terminated its association with former porn star Mia Khalifa due to her provocative comments praising Hamas for executing Israeli police and civilians. The magazine cited her comments as "disgusting and reprehensible" and emphasized its zero-tolerance policy for hate speech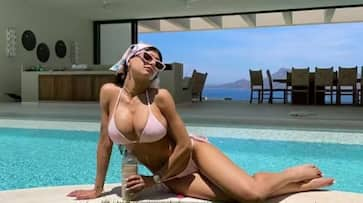 Playboy Magazine has severed ties with Mia Khalifa, a former porn star, due to her controversial comments applauding Hamas for executing Israeli police and civilians. In an email sent to all Playboy members subscribed to the newsletter, the magazine announced the termination of its relationship with Khalifa, citing her "disgusting and reprehensible comments celebrating Hamas' attacks."
In addition to her termination, Playboy has removed all of Khalifa's content from its various platforms.
'We are writing today to let you know of our decision to terminate Playboy's relationship with Mia Khalifa, including deleting Mia's Playboy channel on our creator platform. At Playboy, we encourage free expression and constructive political debate, but we have a zero-tolerance policy for hate speech. We expect Mia to understand her words and actions have consequences,' the statement from Playboy magazine said.
The controversy erupted when Khalifa posted an image of Hamas fighters shooting Israeli police, likening it to a "renaissance painting," and requesting that executions be filmed horizontally.
Furthermore, Mia Khalifa's remarks led to the cancellation of a business deal with Canadian broadcaster and radio host Todd Shapiro, who expressed his strong disapproval of her comments. He promptly fired her, condemning her for condoning violence and expressing hope that she would become a better person.
These comments by Khalifa came amidst a deadly conflict that has resulted in nearly 1600 casualties in Israel and Gaza. The conflict began when Hamas terrorists infiltrated Israel and launched thousands of rockets from Gaza, prompting the Israel Defense Forces to respond.
Khalifa's public stance on the conflict, supporting the Palestinian side, has drawn both praise and criticism. Social media users criticized her for her views, while she also took issue with Kylie Jenner's pro-Israel post, calling for greater awareness of geopolitical tensions in the Middle East.
Last Updated Oct 10, 2023, 9:20 AM IST