'Rakhi Sawant arrested' says Sherlyn Chopra in her latest tweet; Is newly wed in trouble?
Mumbai Police arrested Rakhi Sawant in connection with a charge that was filed last year by actress Sherlyn Chopra. Today, at 3 p.m., the actress was due to open her dancing academy.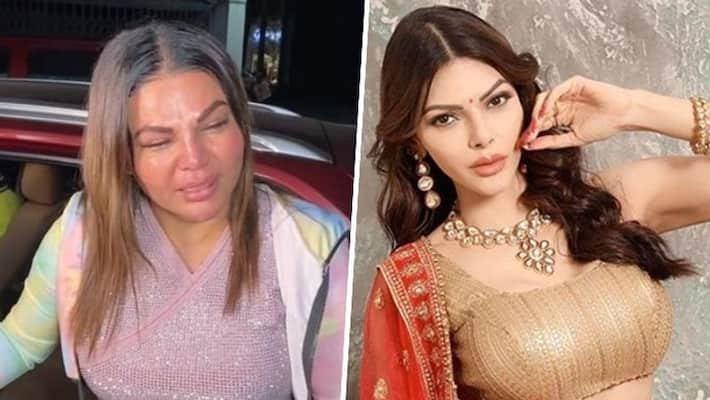 Rakhi Sawant was detained and taken to the Amboli police station on Thursday (January 19). Sherlyn Chopra, who filed a complaint against Rakhi for using 'objectionable language' last year, tweeted about Rakhi's detention. Her anticipatory bail application at Dindoshi Court was denied Wednesday (January 18).
Sherlyn Chopra took to Twitter and shared details about Rakhi Sawant's arrest. "Amboli Police has arrested Rakhi Sawant in respect of FIR 883/2022. Yesterday, Rakhi Sawant's ABA 1870/2022 was rejected by the Mumbai session court," she wrote.
Also Read: Did Sukesh Chandrashekhar pay Rs 10 crore to befriend Jacqueline Fernandez? Here's what we know
Suhail Shariff, Sherlyn's lawyer, verified the same to a media outlet. Rakhi was meant to open her dancing academy at 3 p.m. today (Jan 19). Rakhi's personal life has been making news. She just announced her marriage to Adil Khan Durrani in July of last year. A little nikah and a judicial wedding were held.
Rakhi posted images of legal paperwork as well as recordings of the nikah ceremony. While Adil originally rejected the news, he subsequently accepted it and told the public that he is married to Rakhi.
Also Read: Jacqueline Fernandez: 'Sukesh destroyed my life, career'
Sherlyn Chopra filed a complaint against Rakhi last year, stating that she posted obscene photographs and videos on social media. Rakhi and Sherlyn got into an argument when Rakhi slammed Sherlyn for criticising #MeToo accuser Sajid Khan's appearance on Bigg Boss 16. Sherlyn and Rakhi thereafter filed FIRs against one other for allegedly using 'objectionable' words. Sherlyn accused Rakhi of endorsing filmmaker Sajid Khan and making disrespectful and unpleasant comments. 
According to the news agency PTI, a FIR was filed against Rakhi and her lawyer under Indian Penal Code sections 354-A (sexual harassment), 500 (defamation), and provisions of the Information Technology Act.
Last Updated Jan 19, 2023, 2:53 PM IST