Nora Fatehi: Sukesh wanted me to be his girlfriend; Jacqueline was in waiting list
Details from Nora Fatehi giving her recent statement in the Rs 215 crore extortion case involving conman Sukesh Chandrasekhar surfaced online. The actress claimed he wanted her to be his girlfriend.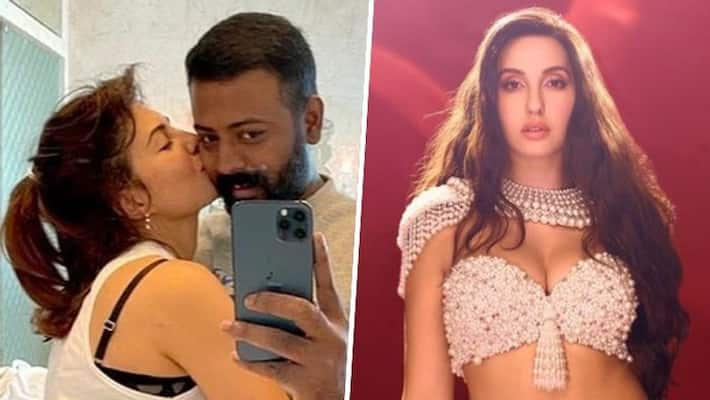 A leading Indian entertainment publication has gained access to Bollywood star Nora's statement to the court in the Rs 215 crore extortion case involving conman Sukesh Chandrashekhar. Nora had recently visited Patiala House Court in Delhi to record her statement as a witness in the case. 
In her statement, she claimed that Sukesh wanted her to be his girlfriend. In exchange for it, he would take care of her and her family financially. Apart from Nora, Jacqueline Fernandez had also got linked to Sukesh.
ALSO READ: Jacqueline Fernandez: 'Sukesh destroyed my life, career'; Know some more shocking statements made by actress
In the statement, Nora said that his close aide Pinky Irani reached out to the cousin of Nora and offered to take care of the arrangement if Nora accepted the offer. According to a news report by a renowned Indian entertainment publication, Nora also claimed that Pinky told her that Jacqueline Fernandez was waiting in line for the offer of Sukesh, but he wanted to date Nora. "Many actresses are dying to be taken care of by Sukesh," Nora quoted his alleged close aide Pinky Irani's statement to her cousin.
Nora Fatehi said, "Initially, I did not know who Sukesh was. Later, I thought he used to work at a company called LS Corporation. I neither had any personal contact nor did I have any conversations with him." Nora also asserted that she found his conman identity only when summoned by the Enforcement Directorate (ED). She adds, "I had no clue about this. And I never met him. The only time I saw him was when the ED confronted me with him at its office."
ALSO READ: Did Sukesh Chandrashekhar pay Rs 10 crore to befriend Jacqueline Fernandez? Here's what we know
Besides this, the leading Indian entertainment publication has also learned that Sukesh Chandrasekhar promised at least a whopping amount of Rs 10 crores (100 million) to his aide Pinky Irani to help befriend Jacqueline. According to the supplementary chargesheet filed by the Economic Offences Wing (EOW) of the Delhi Police against Pinky, she had knowingly and actively conspired with Chandrasekhar to build his "larger-than-life" image that helped him in pulling off the multi-crore scam.
Last Updated Jan 19, 2023, 1:42 PM IST