Kim Kardashian faces ire from her fans for supporting C-Murder; Know details
Kim Kardashian, who extended her support for the release of C-Murder, is now facing backlash from the victim's family. Read on to know the details about what the family of the victim said. The actress and social media icon supported the release of American rapper C-Murder and is facing backlash for the same.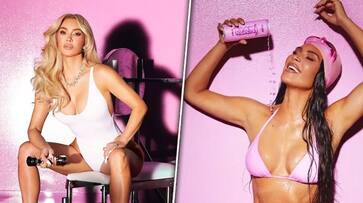 Kim Kardashian's recent advocacy for the release of Master P's brother, C-Murder, from prison has stirred up a storm of emotions, especially within the family of the victim. George Thomas, the brother of teenager Steve Thomas, shared his heartfelt sentiments with a leading entertainment portal, expressing how the celebrity endorsement has brought back painful memories. According to George, the constant media attention on C-Murder's case has made it nearly impossible for their family to find closure and heal from the tragedy that unfolded years ago. The social media icon's plea for wanting justice for C-Murder has sparked outrage on Twitter.
ALSO READ: Video: Playboy covergirl Sherlyn Chopra wants to marry Rahul Gandhi, but has THIS special condition-WATCH
Kim Kardashian, known for her involvement in criminal justice reform, lent her voice to the cause, echoing the sentiments of other celebrities who believe in C-Murder's innocence. She said, "I believe in using my platform to help those who deserve justice," she highlighted the case's development under a new Louisiana law, saying, "The recanted testimonies present a compelling argument for reconsidering C-Murder's conviction." The case has gained traction due to a recent Louisiana law allowing the incarcerated to prove their innocence. Kim highlighted the recanted testimonies of the two key witnesses, upon which C-Murder's conviction was biased."
However, George Thomas countered this perspective, asserting that the extensive evidence against C-Murder points out his guilt. He contended that celebrities championing his release make it challenging for the victim's family to find closure and peace as they both got reminded of their loss and the pain it has caused.
C-Murder's legal team has been relentlessly fighting for his release, contending, "The irregularities in the jury selection compromised the fairness of the trial." They highlighted a specific incident where a juror allegedly cast a guilty vote not based on evidence but to end deliberations and protect another juror. This claim has sparked debate about the fairness of the trial and the impact it may have had on the final verdict.
ALSO READ: Natalie Portman and Benjamin Millipied headed for divorce amid reports of his 'affair'
Last Updated Aug 8, 2023, 10:42 AM IST