Is Vicky Kaushal living unhappy married life with Katrina Kaif? Hectic schedules ruining their quality time?
Vicky Kaushal discusses the benefits and drawbacks of marrying Katrina Kaif, a successful actress, and acknowledges that their busy schedules make it difficult for them to spend enough time together.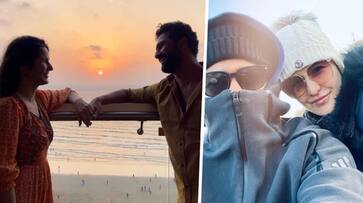 Vicky Kaushal and Katrina Kaif are among the most adored couples in Bollywood. The couple dated for a while before getting married in December 2021. The couple has since been fulfilling important couple goals, whether it be on the red carpet or by praising one another in interviews. Vicky recently discussed marrying an actor and its benefits and drawbacks while promoting his next movie The Great Indian Family. The actor also acknowledged that they don't get to spend enough time together because of their busy schedules.
ALSO READ: Sara Ali Khan, Ibrahim Ali Khan 'humshakals' of Amrita- Saif; playful banter cracks up social media
Vicky recently mentioned in an interview that there are advantages and disadvantages to marrying an actor. In an interview with Pinkvilaa, Vicky stated that one advantage of marrying an actress is that Katrina is aware that their profession is different from typical employment and does not follow a standard nine-to-five schedule. The actor clarified that there is understanding by saying that they do not observe Sundays or weekends.
The Great Indian Family star also discussed the drawbacks of marrying an actor, including the fact that sometimes they are both working nonstop on films and a month may go by without them getting to spend enough time together. The actor continued by saying that despite sharing a home, they could have conflicting schedules. Sometimes when he gets home from work, she already has left, preventing them from spending any time together. Vicky Kaushal discusses whether he and Katrina Kaif have ever felt compelled to have "good news" to share.
Vicky Kaushal also explained why he apologises to Katrina Kaif first, giving up his ego. "Drama kisse chahiye yaar, admit karke life simple ho jaati hai," he remarked, adding that he sometimes acknowledges to mistakes even when he is right. Life is easier when people own up. Vicky's next appearance will be in the family-friendly comedy The Great Indian Family. The movie, which also features Manushi Chillar, is expected to hit theatres on September 22, 2023.
ALSO READ: Jailer: Rajinikanth reviews his own latest film says, 'it was average but it was..'
Last Updated Sep 20, 2023, 12:31 PM IST