Has the 'Stranger Things' star Noah Schnapp opened up on his sexuality to fans officially?
While the ardent global Stranger Things fans already had theories and suspicions of Will (Noah Schnapp) being gay, the star had never opened up or given any official confirmation. But now, it seems like the recent viral video has addressed the fans' questions. The star has finally opened up on the rumors and clarified them.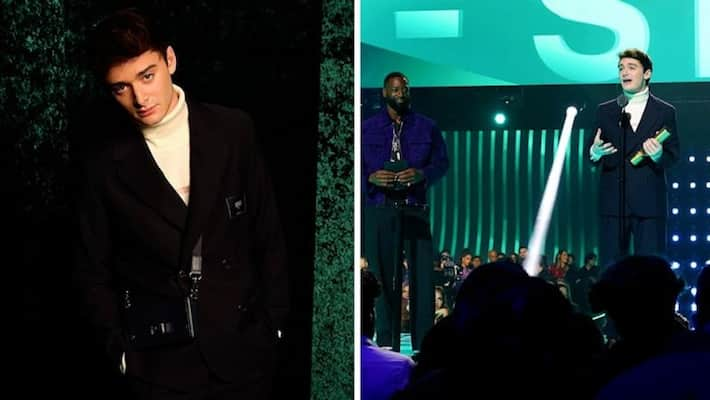 While fans have already had their own theories and speculations about his character Will in the hit and iconic supernatural Netflix series 'Stranger Things' being gay and not straight in any way. So far, the 'Stranger Things' globally loved star, Noah Schnapp, had not spoken about it or given any hint or confirmation about the same in any way.  
But recently, he posted a video on the viral short-form app Tiktok. The interesting part about the video is that it has answered the fans burning questions about Noah's sexuality in real life besides the show. This video came in as an unexpected surprise to Stranger Things fandom. The star has finally come out as gay openly in the video. He also shared with his fans how unfazed and normal his family and friends were on this revelation.
ALSO READ: 'Working towards clinching something...' KGF star Yash's cryptic pre-birthday note to fans
In the video, Noah is lip-synching to the sound, "You know what it never was? That serious. It was never that serious. Quiet frankly, it will never be that serious." He wrote onscreen, "When I finally told my friends and family I was gay after being scared in the closet for 18 years and all they said was 'we know.'"
The 18-year-old star captioned the post, "I guess I'm more like Will than I thought," referring to his character on Stranger Things, Will Byers, who he has played on the Netflix drama since its debut in 2016. Throughout the seasons, fans have suspected that Will is gay, with Noah previously voicing his hope that Will will have a coming out scene in the show's fifth and final season. Stranger Things Season 5 is one of the most-awaited and eagerly-anticipated Netflix series for fans who all have been waiting for the fifth and final season to drop and want more updates on the finale season of the franchise.
In season four, viewers saw that his character, Will, gave a subtle type of hint at his feelings for his best friend Mike (Finn Wolfhard). This specific scene in the episode from 'Stranger Things' Season 4, made fans speculate that the star might not be straight in real life. But Noah expressed he would like season five to show a clear dialogue where Will can share his true feelings.
ALSO READ: Akhanda's Hindi trailer is out; a glance at the finest films of the South industry star Nandamuri Balakrishna
When asked what the Duffer Brothers have in mind for his character Will in the fifth season. In his reply, the star confirmed that they both are not giving anything away and are tight-lipped on their plans. In his interview with a leading global portal back in July 2022, Noah said, "I'm always spoiling stuff, so they will never share anything with me."
Last Updated Jan 6, 2023, 11:46 AM IST