Cannes 2023: Rahul Bhat, Anurag Kashyap get emotional as 'Kennedy' gets 7-minute standing ovation
Kennedy is written and directed by Anurag Kashyap. It stars Rahul Bhat and Sunny Leone in the lead.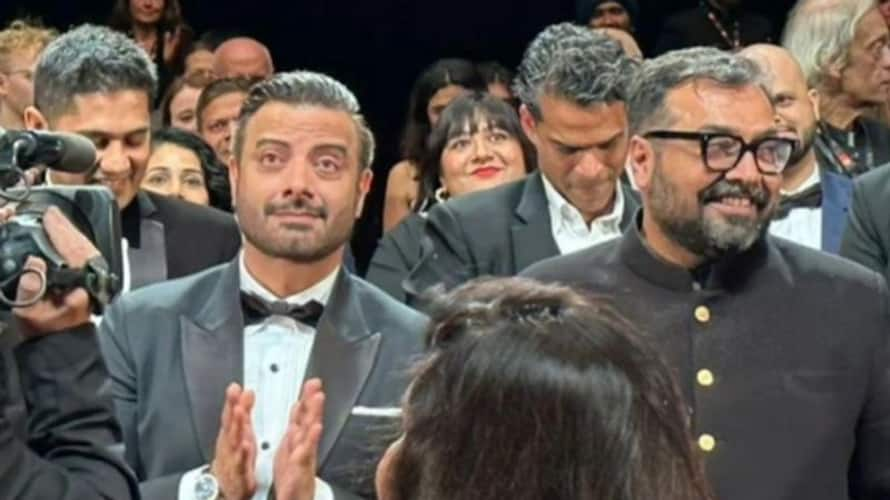 Anurag Kashyap has written and directed the highly-anticipated film Kennedy, a vital police neo-noir film. Kennedy got recently screened at The Grand Lumiere Theatre at the 2023 Cannes Film Festival. 
Kennedy revolves around an insomniac ex-cop who dwells in various circumstances while wanting redemption. The buildup around the film has been high. The film got screened on a stage as prestigious and renowned as Cannes. After the screening, the Anurag Kashyap-directed movie also received a 7-minute long-standing ovation at Cannes.
ALSO READ: 'So much nudity': Lily Rose Depp starrer HBO show 'The Idol' garners mixed reactions at Cannes 2023
Talking about his experience, the noted filmmaker said, "It is always special to show your film to the world at Cannes. It is a lifetime moment to play at the Grand Theatre Lumiere. Kennedy is a special film to me and extremely personal too. We have put our heart and soul into making this film. 7 mins long standing ovation from the audience has made me full of gratitude. I am very grateful and excited at the same time."
Anurag Kashyap got joined by Vikramaditya Motwane, Rahul Bhatt, Sunny Leone, Shariq Patel, Ranjan Singh, Kabir Ahuja, Bhumika Tewari, Neeraj Joshi and Ashima Awasthi at the 2023 Cannes Film Festival. 
Sunny Leone added, "I am thrilled to make my Cannes debut with Kennedy screened here. It is only a dream few actors get to live, and I take pride in being part of such a prestigious event. I cannot wait to see how the global audience reacts." In one of the videos, Anurag Kashyap touched Sudhir Mishra's feet amid the applause.
Besides, even actor Rahul Bhat got emotionally overwhelmed as Kennedy got a 7-minute standing ovation at the Cannes International Film Festival 2023. The final pictures of Anurag Kashyap, Rahul Bhat and Sunny Leone from the glam-studded Cannes 2023 red carpet from the midnight screening of their film Kennedy have also gone viral on social media. Take a look at them here:
The much-awaited photo-call pictures of the entire cast have got dropped by Cannes Festival Instagram handle on social media in which Sunny Leone dazzles in black, Rahul Bhat and Anurag Kashyap also look dapper in black outfits. Have a look at these photos here:
ALSO READ: Mia Khalifa HOT Photos: Fashion influencer oozes oomph by flaunting breasts in cream-plunging BOLD top
Last Updated May 25, 2023, 5:51 PM IST