'Jawan' craze: SRK fans in Bengaluru conduct bike rally, impromptu flash mob (WATCH)
Shah Rukh Khan's film 'Jawan' generates excitement among fans post 'Pathaan' success. Bengaluru fans organize bike rally, flash mob to promote the September 7 release. Karan Johar's praise adds to anticipation. Multilingual release starring SRK, Nayantara, Vijay Sethupathi, Sanya Malhotra; directed by Atlee, presented by Red Chillies Entertainment.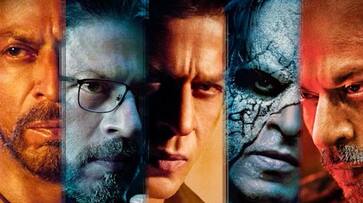 The movie 'Jawan' is generating tremendous excitement among SRK fans following the success of 'Pathaan.' It's set to release on September 7, prompting immense enthusiasm from Shah Rukh Khan's fans in Bengaluru. They organized a lively bike rally to promote the upcoming film.
With a massive global fan base, Shah Rukh Khan has ruled Bollywood for decades, earning the title of the 'Last of Stars.' His Bengaluru fans showcased their loyalty with a grand rally featuring over 100 motorcycles covered with 'Jawan' posters. They even staged an impromptu flash mob in front of a local theatre, dancing to the film's songs.
Has Karan Johar watched trailer of Shah Rukh Khan's film Jawan? Know details
As the release date approaches, excitement for the 'Jawan' trailer is at its peak. Earlier, the creators offered a sneak peek and two songs to tantalize the audience.
Adding to the buzz, filmmaker Karan Johar shared on Sunday that he had seen the "trailer of the century." Fans quickly connected this with 'Jawan,' assuming that the film's team had shared the exclusive preview with industry insiders.

Jawan: Shah Rukh Khan unveils teaser of his song 'Not Ramaiya Vastavaiya' during #AskSRK session
On September 7, 2023, Shah Rukh Khan's upcoming film 'Jawan,' directed by Atlee, will hit theatres. Notably, it will be available in Hindi, Tamil, and Telugu, promising a broader viewing experience. 
The film features a star-studded cast including Shah Rukh Khan, Nayantara, Vijay Sethupathi, and Sanya Malhotra in lead roles. 'Jawan' is a Red Chillies Entertainment presentation directed by Atlee, produced by Gauri Khan, and co-produced by Gaurav Verma.
Last Updated Aug 28, 2023, 3:32 PM IST