India vs Sri Lanka: Men in Blue go berserk as Sachin Tendulkar declares Shreyas Iyer as 'Best Fielder' (WATCH)
Legendary Indian cricketer Sachin Tendulkar made an unexpected appearance to present Shreyas Iyer with his second 'Best Fielder Award' during the ODI World Cup 2023, following India's commanding 302-run victory against Sri Lanka at the Wankhede Stadium, Mumbai, on Thursday.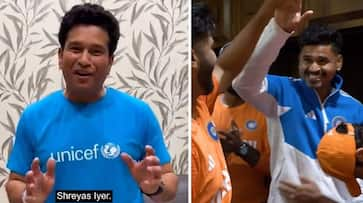 Sachin Tendulkar, the legendary cricketer, made a surprise appearance to announce Shreyas Iyer as the recipient of his second 'Best Fielder Award' in the ODI World Cup 2023 following India's resounding 302-run victory over Sri Lanka at the Wankhede Stadium, Mumbai, on Thursday. Tendulkar was revealed as the distinguished personality to declare Shreyas Iyer as the 'Best Fielder' for his outstanding performance against the Lankans, and the Men in Blue were elated to hear from the 'Master Blaster'. This is now Shreyas Iyer's second 'Best Fielder' medal and the top honours was handed over by KL Rahul, who also has two medals in his kitty.
Also read: Journalist's question to Shreyas Iyer about 'problem' with short ball irks Indian batter; WATCH angry response
"Hi guys, very well done. Rohit (Sharma) met me the other day and spoke to me about the fielding medal, the Best Fielder's medal. It took me back to 2003 World Cup, 20 years ago when we were playing in South Africa. We had one chart before the tournament started. "I can, we can." Each and every player had to sign that chart before going out on the field. It was all about commitment and I will give my 100 percent for the country and the team. That is exactly what the current team is doing by giving a fielding medal," Tendulkar said in the video played in the dressing room of the Indian team post their clash against Sri Lanka.
He added, "It is to me a reflection of your commitment, doing something for your colleague, for your team and for your country. I simply loved the brand of cricket that you have played so far. It's been a joy to watch. Awesome guys, continue this form. I'm not going to say too much. Go out and do what you're expected. You know what I am trying to say."
Following this message, the 'God of cricket' announced that Shreyas Iyer was the winner of the Best Fielder medal for the India vs Sri Lanka match, which was played at Tendulkar's home ground.
Shreyas Iyer not only excelled in fielding but also showcased his remarkable batting prowess, contributing a stunning 82 runs off 56 balls, comprising six sixes and three boundaries. His extraordinary performance propelled India to a commanding total of 357 for eight in their allotted 50 overs.
India demonstrated superiority over Sri Lanka across all facets of the game, securing a dominant victory and solidifying their spot in the semi-finals. This win marked India as the first team to confirm a place in the semi-final stage of the tournament.
Mohammed Shami emerged as the standout performer, achieving his second five-wicket haul in the ongoing ICC Men's ODI World Cup. His remarkable figures of 5-18 played a pivotal role as India dismissed Sri Lanka for a mere 55 runs, resulting in one of India's most significant victories in ODIs at the Wankhede Stadium.
Also read: 'Sachin, Sachin': Fans chant Tendulkar's name at Wankhede Stadium during India vs Sri Lanka WC clash (WATCH)
Mohammed Shami's exceptional performance reflected in his figures of 5-18-5, elevating his overall World Cup wicket tally to 45. With this achievement, he surpassed Zaheer Khan's record of 44 wickets in 23 matches, becoming India's highest wicket-taker in World Cups. Shami reached this milestone in just 14 matches, following his earlier 5-54 against New Zealand in the ongoing ODI World Cup 2023.
Joining the playing XI due to Hardik Pandya's injury, Shami has made a significant impact, securing a total of 14 wickets in only three matches in the current tournament.
In a stunning display reminiscent of their previous encounter during the 2023 Asia Cup final in Colombo, where India bowled out Sri Lanka for 50 runs in 15.2 overs, India continued their dominance. This time, India managed to dismiss Sri Lanka for 55 runs in 19.4 overs, securing a colossal victory by 302 runs in the World Cup match.
Last Updated Nov 3, 2023, 1:43 PM IST