IND vs AUS: 'Let's make it happen' - Sadhguru cheers for 'Team Bharat' ahead of World Cup final (WATCH)
Ahead of the ODI World Cup 2023 final between India and Australia at the Narendra Modi Stadium in Ahmedabad, spiritual leader Sadhguru sent an inspiring message to the Men in Blue.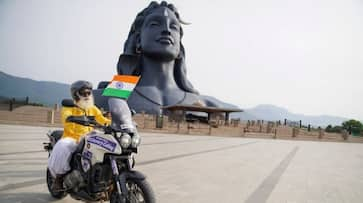 On a 'Super Sunday,' an Indian captain, poised to establish a unique legacy, will lead a squad of 10 formidable professionals, backed by a billion cricket enthusiasts, as they face five-time champions Australia in the ODI World Cup 2023 final at the Narendra Modi Stadium in Ahmedabad where the stakes are winner-takes-it-all. Ahead of the highly-anticipated grand final, the renowned mystic and yogi Sadhguru has expressed his support for the Rohit Sharma-led side.
Also read: IND vs AUS: Rohit Sharma's 'rightful' swap - Superstition behind World Cup trophy photoshoot gives fans hope
Sadhguru, who will be watching the match at Narendra Modi Stadium, in his social media message said, "What a spectacular run for Team Bharat! Our cricket team has taken the game to a completely new level—10 out of 10, unheard of! With exemplary captaincy and spectacular performances by individual players, records galore along the way, this formidable team should have no concerns about the finals."
"I am sure they are going to come out on top," the spiritual leader added.
Sharing his suggestion with the team, Sadhguru said, "The important thing is, we never take the opposition lightly, nor do we bother with who they are. Our concern is how to play the game to the fullest, and I am confident our boys will do just that, bringing pride and joy to the entire country. Over 1.4 billion people—consider the amount of joy you bring to them. Don't forget that, but don't carry it on your heads; just hit the ball, knock down the wickets— that's all! The rest will happen. Wonderful. My best wishes and blessings to every one of you."
"For the finals in Ahmedabad, I am there with you, watching the match. Let's make it happen!" Sadhguru concluded.
Also read: India vs Australia World Cup 2023 final: Can Men in Blue overcome the Richard Kettleborough 'jinx'?
Last Updated Nov 19, 2023, 11:53 AM IST