ODI World Cup 2023: England's captain Jos Buttler optimistic after setback against Afghanistan
Captain Jos Buttler reflects on England's recovery following their unexpected loss to Afghanistan in the ICC Cricket World Cup.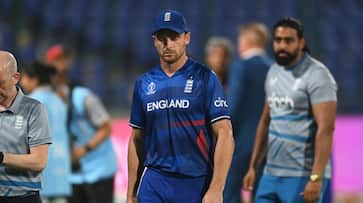 Captain Jos Buttler asserted that England has moved forward from the defeat to Afghanistan, stating that the defending champions engaged in productive discussions following their unexpected loss in the ICC Cricket World Cup. The defeat came as a shock, given England's extensive batting lineup. Midway through the match, a target of 285 didn't seem daunting. However, Buttler and his team faltered, managing only 215 runs and suffering their second defeat in three matches.
"We took a few days to reflect on the loss and have now shifted our focus. We had valuable discussions, and the team's energy and determination during our practice sessions were exceptionally high," Buttler told the media at the Wankhede Stadium ahead of England's training session.
In a bid to defend their World Cup title, England brought back their iconic all-rounder Ben Stokes, who had come out of retirement. Unfortunately, Stokes has missed all three matches due to fitness issues. Although Stokes displayed high intensity in his recent training sessions, Buttler refrained from making any firm commitments regarding his participation.
"I have a multitude of options within the squad, and it's always a challenging task to determine the right balance, considering the specific venue and conditions. It's been an excellent opportunity to assess the pitch today and gather more information," replied Buttler. "Ben had a really impressive training session last night. It's great to have him back. He not only adds value on the field but also contributes with his leadership skills, making him a valuable asset."
Just like England, South Africa faced an upset in their previous match against the Netherlands, which surprised Buttler. He acknowledged the balanced all-round strength of the Proteas and commended the Netherlands for their outstanding performance.
Also Read: ODI World Cup 2023: Injured Hardik Pandya set to miss the clash against New Zealand
"Yes, it was surprising. You're always taken aback when such upsets occur. I have no intention to disrespect the Netherlands; they played a remarkable game and deserved the victory. You must credit the opposition in such cases," Buttler remarked. "On the day, South Africa would have been the favorites according to bookmakers. That's the beauty of sports—it produces these unexpected results. Everyone competes on a level playing field, and you must give credit to the opposition."
Buttler expressed admiration for South Africa's performance in the ongoing quadrennial event, highlighting their strong top six batters and pace-bowling prowess. He anticipated an exciting clash with both teams having formidable pace attacks.
"They've been consistently playing exceptional cricket. Their top six is formidable, and their pace bowlers are a notable strength," Buttler stated. "Both teams have a liking for pace in their bowling attack, which should make for an enthralling contest. South Africa is a formidable team, and we expect a tough challenge in what promises to be a fantastic game," said the English skipper, who aims to secure his second world title.
Buttler, one of the top batters in the Indian Premier League, has been batting in the middle order for the England lineup despite his successful history as an opener. He clarified that he has no plans to open for England and looks forward to playing at the Wankhede Stadium, a ground that holds fond memories for him.
Also Read: Looking forward to work with Boucher, Pollard & Rohit Sharma, says Mumbai Indians' new bowling coach Malinga
Last Updated Oct 20, 2023, 6:12 PM IST