ODI World Cup 2023: David Warner attributes ODI success to IPL experience
Discover how David Warner's IPL experience shaped his ODI success as he played a pivotal role in Australia's World Cup victory with a remarkable century.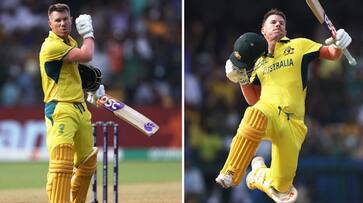 Following his remarkable century, David Warner attributes his success in ODIs to the IPL. The opener played a pivotal role in Australia's World Cup victory with his whirlwind 163 off 124 balls, forming a 259-run partnership with fellow centurion Mitchell Marsh. This victory propelled Australia to the fourth position on the table.
Warner acknowledged the IPL as a valuable learning platform where he honed the skill of pacing his ODI innings. During a post-match media conference, he shared his insights, stating, "I've recognized early in my career that 50 overs provide ample time. I aim to reach the 35-over mark and then, if I'm still at the crease, accelerate from there. I believe that my experience in T20 cricket, especially in the IPL, has been instrumental in this aspect. Playing for the Sunrisers, I learned that there is more time available than one might think."
A closer look at Warner's performance at the Chinnaswamy Stadium illustrates this point. He achieved his first 50 runs in 41 balls, the next fifty in 44 balls, and the final 63 runs in a mere 39 balls. He emphasized the importance of adapting to the situation: "In the first 10 overs, when you face two new balls, you need to respect that. However, if you manage to get through that phase, you can be 50 off the first 10. Establishing a solid foundation is crucial, and this is the energy you build upon. By giving yourself time in the later stages, you can accumulate a substantial score."
Warner's success against Pakistan, with four consecutive ODI hundreds, cannot be attributed to any magic formula, as he modestly stated, "I think sometimes you just match up well against certain teams. Sometimes, you're going to put away the good deliveries. But I think you just keep backing yourself. I don't really look at any stats. It just so happens that I've scored four consecutive hundreds, which I didn't know about until they came up. But for me, it's about giving my best every time I step out there."
Also Read: ODI World Cup 2023: Australia creates records in abundance after magnificent batting show against Pakistan
He also praised his opening partner, Mitchell Marsh, highlighting his excellent form and the positive influence he brings to the team. Warner described Marsh as the "life of the party" and commended his character, which is valuable in high-pressure games.
Warner acknowledged the contribution of Marcus Stoinis, who made early breakthroughs by dismissing Pakistan's openers. He praised Stoinis for his familiarity with Indian conditions and his confidence in executing his skills.
Reflecting on the match, Warner believed that a target of 350 runs was competitive on the pitch. He acknowledged the history of the ground and the potential impact of dew in the later stages of the game. Warner also recognized the importance of partnerships in Pakistan's chase.
Regarding a dropped catch on his score of 10, Warner explained that the pitch was slow, and he wished he had played the shot differently. However, he noted that sometimes the ball doesn't come on to the bat as expected, and he was unaware of the drop due to his position on the field.
Also Read: Pakistani fan irked after cop stops him from chanting 'Pakistan Zindabad' during Australia clash (WATCH)
Last Updated Oct 21, 2023, 12:30 PM IST