India vs Australia WC final: Hotel prices, airfares skyrocket in Ahmedabad; Rs 1.25 lakh for single room!
As excitement builds for the impending Cricket World Cup final between India and Australia at Ahmedabad's Narendra Modi Stadium, the city experiences an unprecedented surge in hotel prices and airfares.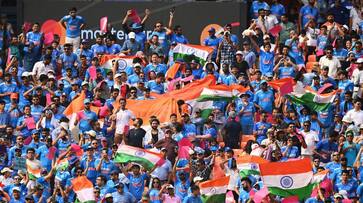 The cost of a single room has surged to Rs 1.25 lakh in Ahmedabad, with hotel prices and airfares experiencing a significant spike ahead of the Cricket World Cup final. The escalating demand for hotel rooms, primarily driven by those eager to witness the India vs. Australia match at Narendra Modi Stadium this coming Sunday, has led to a substantial increase in room rates. Previously affordable accommodations now range from Rs 50,000 to Rs 1.25 lakh.
The surge in hotel room tariffs is particularly pronounced in top five-star hotels, where prices for the night of the match have reached as high as Rs 2 lakh. This surge extends to other hotels as well, with rates soaring five to seven times their usual prices.
Narendra Somani, the President of the Federation of Hotel and Restaurant Association of Gujarat, highlighted the global enthusiasm for the World Cup final, attracting spectators not only from India but also from places like Dubai, Australia, and South Africa.
With 5,000 rooms in three- and five-star hotels in Ahmedabad and a total of 10,000 rooms in the entire state of Gujarat, the demand is expected to surpass capacity. The Narendra Modi Stadium can accommodate over 1.20 lakh people, and an influx of 30,000 to 40,000 spectators from outside the region is anticipated.
As the demand for hotel rooms surges, rates are escalating not only in Ahmedabad but also in surrounding towns. Flight ticket bookings precede hotel reservations, contributing to the rising prices. Online rates for five-star hotels have reached approximately Rs 2 lakh per night, and even non-star hotels are capitalizing on the heightened demand by increasing their rates five to seven times.
For instance, Hotel Crown on C G Road, typically charging Rs 3,000 to Rs 4,000 per night, has hiked its rate to over Rs 20,000. Simultaneously, airfares from various destinations to Ahmedabad have experienced a substantial increase compared to normal rates, with flights from Chennai, for example, rising from Rs 5,000 to Rs 16,000 to Rs 25,000.
Travel agent Manubhai Pancholi noted that the surge in airfares is a result of the high demand for Ahmedabad from nearly all locations. Cricket enthusiasts are willing to pay premium prices for this once-in-a-lifetime opportunity to witness India play in the finals on their home turf, leading to a heightened demand for hotels and tickets.
Also Read: Ahead of India vs Australia final, Mohammed Shami reveals secret behind ODI World Cup 2023 success
Also Read: David Miller reflects on South Africa's World Cup journey after semifinal loss to Australia
Last Updated Nov 17, 2023, 6:08 PM IST