Ahead of India vs Australia final, Mohammed Shami reveals secret behind ODI World Cup 2023 success
Unraveling the secrets to his World Cup 2023 success, Mohammed Shami, India's seasoned pacer, sheds light on his bowling strategy.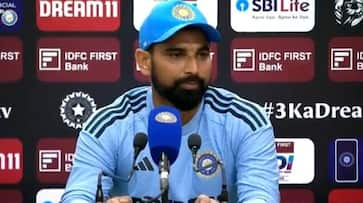 India's experienced pacer, Mohammed Shami, downplays the notion of anything extraordinary in his bowling approach, emphasizing his focus on maintaining a stump-to-stump length and targeting specific zones to secure wickets. Shami, currently India's leading wicket-taker in the World Cup with 23 dismissals in six matches, including an impressive four-for and three fifers, has been a consistent performer in the tournament. His standout performance was in the semifinal against New Zealand, where he claimed seven wickets in Mumbai.
Assessing match situations, pitch behavior, and the swing of the ball, Shami reveals, "If the ball is not swinging, I try and bowl stump to stump while trying to land it in a zone where the ball can catch an edge of the batters (when they) are driving."
Initially absent for the first four World Cup matches, Shami's impactful return came after Hardik Pandya's injury. Since then, he has showcased remarkable pace and seam movement in varied conditions, contributing significantly to India's campaign.
Former India head coach Ravi Shastri acknowledges Shami's pivotal role, expressing confidence in his performance in the upcoming final against Australia in Ahmedabad. Shastri highlights Shami's consistency in hitting the right lengths, causing trouble for batsmen with his skills, particularly evident in the challenging conditions of Mumbai where he successfully induced outside edges.
Also Read: David Miller reflects on South Africa's World Cup journey after semifinal loss to Australia
Last Updated Nov 17, 2023, 5:49 PM IST