Ben Stokes to undergo knee surgery after ODI World Cup 2023; admits England have been 'cr*p' so far (WATCH)
"Ben Stokes to undergo knee surgery post-ODI World Cup 2023, aiming to regain form for England's Test series in India, while expressing disappointment over England's underwhelming performance in the showpiece tournament.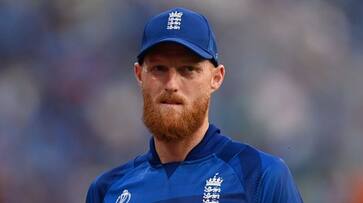 Iconic England cricketer Ben Stokes has decided to undergo surgery on his left knee following the conclusion of the ODI World Cup 2023, aiming to return to his familiar form before the team's upcoming Test series in India next year. Struggling with a persistent knee issue for the past 18 months, the English all-rounder has refrained from bowling since July 1, the fourth day of the second Ashes Test at Lord's.
"I will hopefully be fine for the Test series [against India]," Stokes said on the eve of England's fixture against Australia in Ahmedabad. "I am having surgery after the World Cup… There was a lot of time put into deciding when to get it done. The India Test series, which we start at the end of January, I should be fine to go by then."
Also read: England's daring cricket style 'Bazball' added to Collins Dictionary; Labuschagne calls it 'garbage' (WATCH)
Although details of the procedure remain undisclosed, Stokes anticipates a recovery period of five to seven weeks, ruling out his participation in England's white-ball tour to the Caribbean in December. Renowned knee surgeon Dr Andy Williams will perform the operation, a decision made after consultations with the medical team.
"When we go to those meetings, we generally take a physio and doctor and they start talking. I just turn up, go to sleep, wake up and hope it is better… they use language that I've never heard before," Stokes said.
"There's obviously something that needs to be operated on. It's been a big hindrance on me, and affected what I can do for the team. Obviously that [being an allrounder] is what I want to be doing. You'd hope that it means that I can get back to doing what I've been known for, which is playing a role as a batter, and playing a role as a bowler as well," he added.
The five-Test series against India commences on January 25 in Hyderabad, with England planning a short UAE camp before the series. Stokes indicated that decisions about his bowling fitness will be a collaborative effort between himself and the medical team.
"Obviously it's been a long time coming and obviously I want to get back to what I've been doing prior to the 18 months where I've had this injury. We'll just see how everything goes, see how I respond to the surgery and all the rehab as well… I don't think the surgery is going to have any hindrance on me taking part in the series in India," he said.
While uncertain about participation in future events like the T20 World Cup or the preceding IPL due to the ongoing ODI World Cup 2023 and the imminent India series, Stokes remains focused on the present cricketing commitments. "Look, we've got three games left here in the World Cup and then a huge series against India," he said. "That's where everything is at, at the moment."
During the ODI World Cup 2023, Stokes revealed experiencing "exercise-induced asthma," possibly triggered by changes in air quality in various Indian cities. Despite his impending surgery, he's committed to staying until the World Cup concludes. After conducting shuttle runs on the outfield during a training session prior to England's loss to Sri Lanka in Bengaluru, he was seen using an inhaler. He stated this was because of the shift in air quality following a week-long stay in Mumbai.
Also read: India vs Sri Lanka: Men in Blue go berserk as Sachin Tendulkar declares Shreyas Iyer as 'Best Fielder' (WATCH)
"Sometimes it happens when you go to a new city in India where the air is slightly different," he said. "That could be a reason for it: Bangalore, when we actually turned up, just felt a lot fresher. Doing the running that I was doing [shuttle runs on the outfield] does bring it on a lot easier than normal."
Analyzing England's World Cup performance, Stokes candidly expressed dissatisfaction, acknowledging the team's subpar performance and their inability to seize control in crucial moments. He stressed the need for an improved collective effort, highlighting the team's shortcomings during the tournament.
"We've had a disastrous World Cup," he said. "There's no point sugarcoating that, because it's the truth. The problem is that we've been cr*p."
"Everything we've tried throughout this World Cup, through trying to put pressure back on to the opposition in the way in which we know, or trying to soak up the pressure in a different way, which we know we've done before and been successful with, it's just not worked. Every opportunity that we've had in front of us where we feel like we can take control of the game, the opposition's managed to get it back towards them. We've just not been able to put a full game together, or even get close to putting a full game together - except against Bangladesh," Stokes added.
Despite a hip injury at the onset of the ODI World Cup 2023 and a limited contribution upon his return, Stokes remains resolute in his decision to reverse his ODI retirement. Disappointed with England's underwhelming World Cup display, he emphasized their need for significant improvement to compete at the international level.
"If you dive too much into it around cricket, you find you come out with more questions than answers… we've been nowhere near good enough to be able to compete in a World Cup, which has been incredibly disappointing because we know we're so, so much better than what we've shown out here," he said. "If we knew what had gone wrong, we would have been able to fix it. But unfortunately, we don't."
"It's just been one of those tournaments where… yeah, it's just been a disaster. And there's no point sugarcoating it, because it's probably what you're all going to write anyway - and it's true," Stokes concluded.
Last Updated Nov 3, 2023, 3:40 PM IST