England's daring cricket style 'Bazball' added to Collins Dictionary; Labuschagne calls it 'garbage' (WATCH)
The recognition of 'Bazball' in the Collins dictionary acknowledges England's daring cricket style under coach Brendon McCullum, despite his disapproval of the term.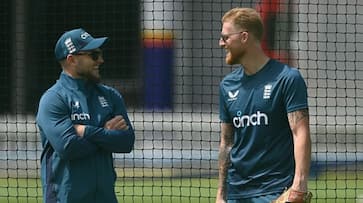 In the backdrop of England's horror show in the ongoing ODI World Cup 2023, the Collins dictionary has officially recognized 'Bazball' as a testament to the daring, risk-taking approach embraced by the English men's cricket team under the guidance of red-ball coach Brendon McCullum. The term emerged following the tenure of former New Zealand captain and opening batsman, affectionately known as 'Baz', who assumed the role of England's Test coach in May 2022.
'Bazball' quickly gained widespread usage, particularly during the recent Ashes series, where England, starting at 0-2, managed to draw the series 2-2, showcasing a play style associated with the term.
Also read: Marcus Stoinis' dietary dedication: Personal Indian chef recommended by KL Rahul, keto diet fuel WC journey
Described as a noun in the dictionary, 'Bazball' characterizes "a style of test cricket in which the batting side seeks to seize the initiative by playing in an exceptionally aggressive manner."
Despite its recognition, McCullum distanced himself from the term, expressing his disfavor towards it. "I don't have any idea what 'Bazball' is. I don't really like that silly term that people are throwing out there," he remarked last year.
Australian cricketer Marnus Labuschagne humorously dismissed the term upon being asked about its inclusion in the dictionary. "Oh man, that is garbage. I don't know what that is honestly. I have no idea what you are talking about," he shared in a video posted by cricket.com.au.
'Bazball' secured a place as one of Collins' 10 words of the year and was a runner-up for Word of the Year, ultimately losing to AI (artificial intelligence).
Harper Collins also recognized 'Bazball' as one of the ten most significant new words of the year.
While already incorporated into the online dictionary version, 'Bazball' is set to be included in the forthcoming edition of the physical dictionary.
Also read: Goosebumps! Fans sing Vande Mataram along with dazzling light show after India's WC win over England (WATCH)
Last Updated Nov 1, 2023, 5:36 PM IST