Auto Expo 2023: Greaves Cotton displays Ampere Primus electric scooter; check details
Greaves Cotton Limited's Vice Chairman Nagesh Basavanhalli said: "We are in the process of transitioning from a metal-based, manufacturing engineering company to an electric, electronic and mechatronics based mobility technology company that is solving the 21st century challenges in clean and affordable last-mile mobility."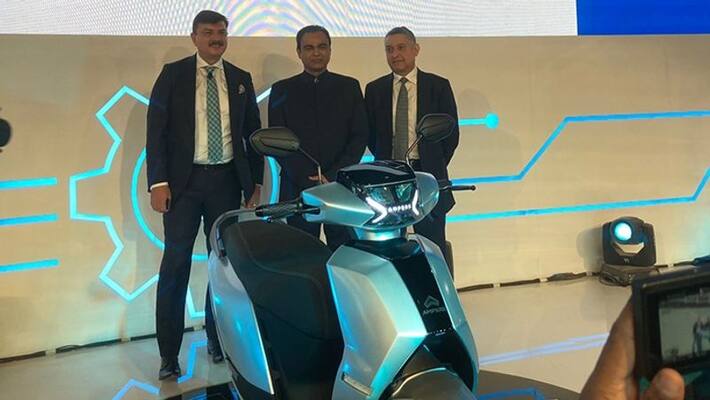 Leading diversified engineering firm Greaves Cotton Limited on Wednesday (January 11) unveiled a range of "Made-in-India" products, including e2w — Ampere Primus, during Auto Expo 2023 which commenced today. 
"With Ampere Primus, we will set a new benchmark in performance, comfort and elegantly styled product for the modern millennial commuters," Greaves Cotton CEO and Executive Director Sanay Behl said.
Also read: 2023 MG Hector facelift, Hector Plus launched at Auto Expo 2023; prices start from Rs 14.72 lakh
Know about the Ampere Primus:
The company has tried to target the modern millennial commuters and young families as the scooter is poised to meet the needs of users looking for higher speed, enhanced styling and better technology. 
Ampere Primus has a speed of 77 kmph, efficient high torque 4kw mid-mount motor and a range of 100+ km on a full charge. 
It can be driven in four modes— eco, city, power and reverse for optimum rideability. 
Also read: Maruti Suzuki Concept EVX SUV unveiled at Auto Expo 2023; from range to battery life, know it all
It is equipped with 3kWh LFP battery technology with smart BMS and AIS 156 compliant with longer battery life. 
The scooter is also fitted with Bluetooth connectivity and navigation with phone app for connivence.
As far as comfort is concerned, the two-wheeler has longer legroom, wider seats and better driveability.
It is available in four metallic Matt colours —- Himalayan white, Royal orange, Havelock Blue and Buck Black. 
Also read: Auto Expo 2023 Live Updates: eVX electric SUV concept revealed
Besides, the company has also unveiled five additional new product concepts to meet consumer needs across segments and price points. 
During the unveiling ceremony, Greaves Cotton also announced that it will leverage its decades of engineering expertise to manufacture powertrains as it aims to lead last-mile passenger and cargo mobility through a complete elective vehicle ecosystem stack. 
Announced earlier to infuse Rs 1,500 crore into sustainable mobility, the company stated that it will meet the evolving needs in the segment. 
Greaves Cotton Limited's Vice Chairman Nagesh Basavanhalli said: "We are in the process of transitioning from a metal-based, manufacturing engineering company to an electric, electronic and mechatronics based mobility technology company that is solving the 21st century challenges in clean and affordable last-mile mobility."
"We are committed to help India transition to electric mobility while setting a new benchmark of scale, sophistication and diversity in the EV landscape," he said. 
Greaves Cotton Managing Director Arup Basu said: "The electric powertrain business is a natural progression for us, given our sound engineering legacy."
The company has also announced that the booking would be commenced soon.
Last Updated Jan 11, 2023, 11:09 AM IST