WATCH: Gaffe-prone Joe Biden calls US Vice President Kamala Harris 'President'; video goes viral
US President Joe Biden, known for verbal missteps, committed another blunder at a recent White House event by inadvertently referring to Vice President Kamala Harris as "president" on Monday.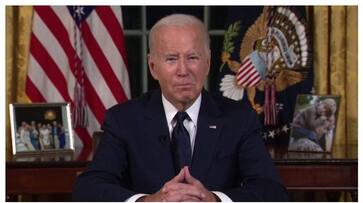 At a White House event honouring the Stanley Cup-winning Vegas Golden Knights on Monday, US President Joe Biden found himself in another gaffe-prone moment when he mistakenly referred to Vice President Kamala Harris as "President." The incident occurred during Biden's introduction of Vice President Harris, who was present to mark the return of an NHL tradition.
As Biden took the stage to honor the Las Vegas Golden Knights, he exclaimed, "Welcome to the White House, the 2023 Stanley Cup champion Vegas Golden Knights! President Harris is here to make sure we do this the right way."
Unsurprisingly, the internet swiftly responded to the blunder, with users trolling Biden for not knowing who the current president is. Comments flooded in, ranging from expressing embarrassment to playful jabs at Biden's awareness. This incident is not an isolated one; according to the New York Post, Biden has made similar errors in at least six other public appearances, once even mistakenly referring to Vice President Harris as "the First Lady."
In a previous slip of the tongue in 2022, Biden wished Vice President Harris a happy birthday during a White House event and inadvertently called her "a great president," as reported by Fox News. This recurring mistake seems to be part of a pattern in Biden's public speaking engagements.
Also read: WATCH: Gaffe-prone Biden calls Ukraine President Zelenskyy as 'Vladimir' at NATO Summit; video goes viral
Adding to the list of blunders, Biden also misspoke in September when he referred to popular rapper LL Cool J as a "boy" after mispronouncing his name during a Congressional Black Caucus event.
In his speech, Biden said, ''Two of the great artists of our time representing the groundbreaking legacy of hip hop in America, LL Jay Cool J, uhhh...'' He then awkwardly added, ''By the way, that boy - that man's got biceps bigger than my thighs.'' Despite the slip, the president quickly corrected himself.
These frequent verbal missteps contribute to the ongoing scrutiny of President Biden's communication skills and attention to detail, fueling internet commentary and public discussion about his ability to convey messages accurately in various contexts.
Last Updated Nov 14, 2023, 9:55 AM IST