Coronavirus: World War II veteran turns 100, receives over 1 lakh birthday cards; UK PM hails 'heroic efforts'
Captain Tom Moore today (April 30) celebrated his 100th birthday and received a whopping 1 lakh-plus birthday cards. The World War II veteran is a national hero in the United Kingdom (UK). He raised more than 30 million pounds for National Health Service (NHS) during the coronavirus (COVID-19) crisis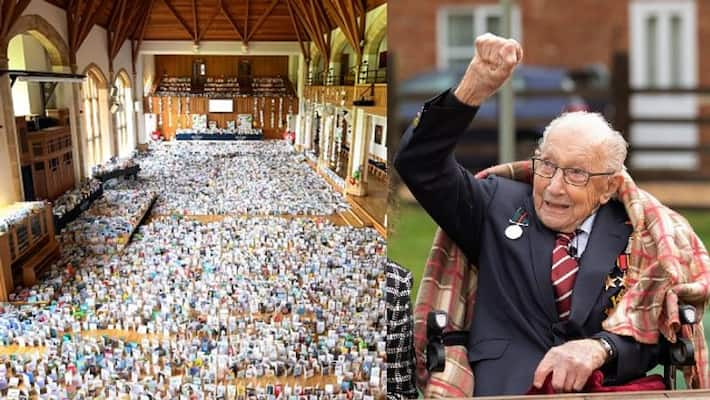 London: A British World War II veteran, who helped raise more than 30 million pounds the National Health Service (NHS) during their fight against coronavirus (COVID-19) pandemic, has been flooded with over 125,000 on his 100th birthday today (April 30).
Also read: Captain Tom Moore walks to raise funds
Captain Tom Moore, who served in India and Burma, also received a special gift when he promoted to honorary Colonel for his service to NHS during the ongoing health crisis in the United Kingdom (UK).
An RAF flypast was provided by a Spitfire and a Hurricane over his home on his 100th birthday in Marston Moretaine, England. He raised funds for the NHS by walking laps of his garden.
Captain Moore's grandson studies at Bedford School and the birthday cards numbering over 125,000 were on display at the school.
"Reaching 100 is quite something. Reaching 100 with such interest in me and huge generosity from the public is very overwhelming," Moore was quoted as saying by BBC.
"People keep saying what I have done is remarkable, however it's actually what you have done for me which is remarkable. Please always remember, tomorrow will be a good day," he added.

UK Prime Minister Boris Johnson, in a special message, said, "I know I speak for the whole nation when I say we wish you a very happy 100th birthday. Your heroic efforts have lifted the spirits of the entire nation, you've created a channel to enable millions to say a heartfelt thank you to the remarkable men and women in our NHS who have all been doing the most outstanding job."
Captain Moore was born and brought up in Keighley, Yorkshire. He went to Keighley Grammar School and later completed an apprenticeship as a Civil Engineer. Tom went onto being enlisted in 8 DWR (145 RAC) at the beginning of the war, and in 1940 was selected for Officer training. He was later posted to 9DWR in India, and served and fought on the Arakan, went to Regiment to Sumatra after the Japanese surrender and returned to be Instructor at Armoured Fighting Vehicle School in Bovington.
Last Updated Apr 30, 2020, 3:26 PM IST