SUV driver skills on narrow bridge impressed netizens; watch viral video
A video of two drivers manoeuvring their SUV on a narrow bridge has emerged on social media. The insane driving skills of both drivers have captured netizens' attention.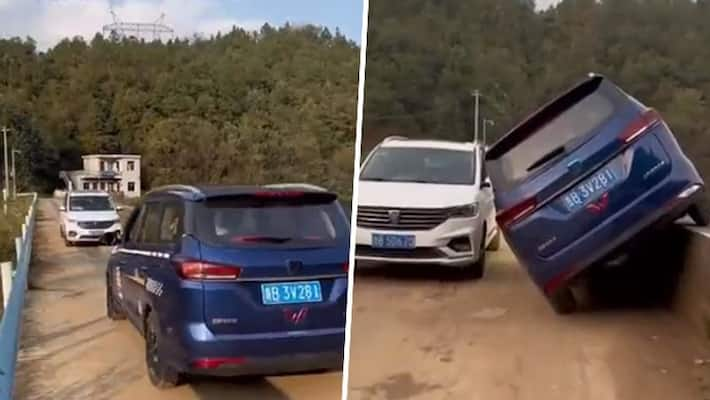 We all know that driving is an art, and the man behind the wheel must have the material skills to control the vehicle's direction, acceleration, and deceleration. The car a person owns is not just a machine; it is like love, a best friend, and a reliable partner for many. 
Several people drive their vehicles carefully and ensure they are correctly wading through the traffic. Almost every driver has a unique set of talents while dealing with the passage of automobiles of different shapes and sizes. However, not everyone who knows driving is a master in his craft. 
Also Read: New Jersey: Man finds 3-feet-long alligator in a plastic bin outside his home
One such video of two SUVs approaching a narrow bridge from opposite directions and successfully moving ahead has surfaced online. The skills of the driver have impressed social media users. A Twitter user named Next Level Skills shared this video on the micro-blogging site with the caption, "Insane driving skills."
The over-a-minute video starts with an SUV trying to hover over a narrow bridge when another vehicle comes from the other end. Witnessing the narrow pathway width and the cars' sizes, it appears impossible for both to cross it simultaneously. However, instead of reversing back, both SUV drivers decide to pass by each other.  
Initially, the white SUV driver moves his car towards the edge of the road without causing any hassle and creating more room for the other vehicle. That is when the other SUV driver displays his intelligent and skilful driving. Readers are strictly advised not to go for these sorts of dangerous driving unless they are qualified and have a license. Without any delay, watch the video till the end.
After being shared online, the video went crazy viral and accumulated over 4.3 million views and 73K likes. The video impressed social media users, who also expressed their opinions and started a debate in the comments section.
Also Read: Kerala youth's soulful rendition impresses two cops while patrolling on duty; watch video
Last Updated Jan 18, 2023, 7:28 PM IST