WATCH: Lionel Messi's goalazo fires Inter Miami into Leagues Cup 2023 quarterfinals
In a sensational Leagues Cup showdown, Inter Miami showcased their prowess with a stunning performance led by Lionel Messi. The Argentinian legend scored a remarkable opening goal and a breathtaking free-kick to level the score, ultimately guiding his team to victory in a thrilling penalty shootout against FC Dallas.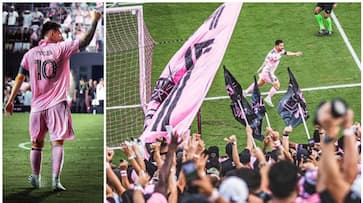 Inter Miami traveled to Dallas to play in the Leagues Cup, and it was Messi who found the net first, scoring the opening goal within eight minutes. However, it was Messi's second goal of the match, a magnificent free-kick in the 84th minute, that truly left a lasting impression. This impressive strike levelled the score at 4-4 with only six minutes left on the clock.
Ultimately, Miami managed to secure victory in the game through a penalty shootout, with Messi once again demonstrating his prowess by scoring during the shootout.
Messi's brilliance was evident throughout the match. His initial goal came just five minutes into the game with a skillful left-footed finish from outside the box, nestling the ball into the bottom corner.
When FC Dallas took a 4-3 lead, it seemed they were destined to win. However, Messi intervened with a stunning free-kick from the edge of the box, beautifully placing the ball into the top right-hand corner of the net. Even the goalkeeper's valiant dive couldn't stop the perfectly executed shot.
Also Read: Pakistan captain's remark on India's emerging Asia Cup team sparks debate on social media
After scoring the goal, Messi calmly waved away his celebrating teammates, knowing that the match was still far from over. Extra time didn't produce a winner, leading the game to a thrilling penalty shootout, which Miami eventually won with Messi once again finding the net.
In summary, Messi's incredible performance and crucial goals were instrumental in Inter Miami's triumph in the thrilling encounter against FC Dallas in the Leagues Cup.
Last Updated Aug 7, 2023, 12:39 PM IST