Sleeping with the beauty! Fans go berserk after Messi cuddles up with Argentina's World Cup 2022 trophy
Legendary forward Lionel Messi woke up alongside the Qatar World Cup 2022 trophy following a night of wild celebrations as Argentina returned home.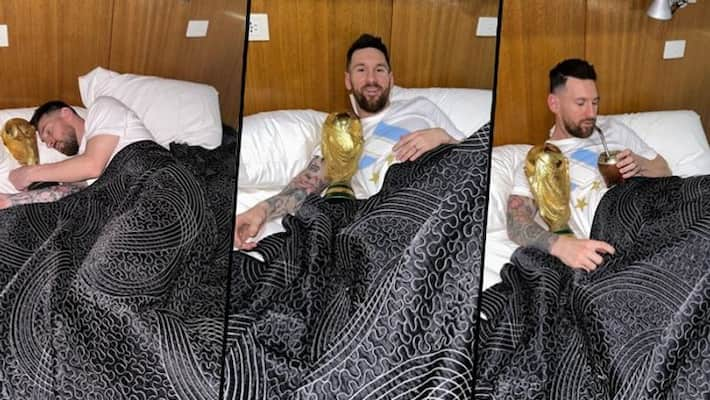 After a night of raucous celebrations as Qatar 2022 champions Argentina returned home, superstar Lionel Messi woke up alongside the World Cup trophy. 
Following their thrilling victory over France, the players travelled back from the Gulf country on Monday and were met by hundreds of thousands of adoring supporters in Buenos Aires.
Also read: A Messi end! Memes carpet bomb Argentina stars after escaping disaster during World Cup celebration parade
However, it appears that Messi did eventually succeed in getting some rest, along with the sparkling award that many thought was destined for him.
The Argentinian legend posted three pictures on Instagram of him tucked up alongside the coveted gold trophy and captioned them simply: 'Good Morning!'
In the first photo, Messi was lying down next to the trophy; in the second, he was sitting up in bed, grinning, and donning a celebration t-shirt with three stars to symbolise Argentina's three World Cup victories. The third image showed Messi snuggling up to the trophy while sipping a beverage in the morning.
"Good day captain," wrote Argentina teammate Leandro Paredes, while Paulo Dybala said, "Beautiful morning isn't it!!???"
Messi's close friend and former Barcelona teammate Luis Suarez joked: "Did you get a bad sleep?" while the 35-year-old legend's wife Antonela Roccuzzo replied, "Good morning my love."
"A well achieved dream, Congratulations Messi," noted one fan on Instagram, while another added, "It's real, not a dream."
Also read: Messi vs Ronaldo: Is G.O.A.T. debate over? Peter Drury answers poetically after Argentina's World Cup 2022 win
Here's a look at how other Messi supporters reacted to the Argentinian hero's latest Instagram post:
Argentina arrived at Ezeiza International Airport at roughly 2.20 am local time on Tuesday morning after a gruelling 21-hour flight back from Qatar, and it appeared that Messi had not released the trophy since then.
Before he and his head coach Lionel Scaloni came out of the plane, Messi was the first to exit the plane and held out the trophy for the onlookers to see.
After that, the group boarded an open-top bus and proceeded to march through the streets of the nation's capital, where tens of thousands of ecstatic supporters had gathered to welcome their heroes home.
Also read: Did Emir of Qatar photo-bomb Messi's greatest moment by draping black robe? War of words rages on
Shortly after arrival, Messi and his teammates nearly fell off the rear of their open-top bus. On camera, it can be seen that Messi and four of his teammates, including Leandro Paredes and Angel Di Maria, were forced to swerve around an overhanging power cord as they made their way slowly through a mass of delighted Argentine fans.
The Paris Saint-Germain (PSG) star scored twice during the grand finale against France at the Lusail Stadium, adding to his total haul of seven for the tournament and finally clinched the one trophy that had so far evaded him throughout his sensational career.
Last Updated Dec 20, 2022, 6:21 PM IST