Liverpool striker Luis Diaz's parents kidnapped by Colombian Guerrilla Group: ELN implicated
Liverpool footballer Luis Diaz were abducted by an armed Colombian guerrilla group in the town of Barrancas, La Guajira. The ELN, a prominent guerrilla unit, was implicated in this shocking kidnapping. While Cilenis Marulanda, Luis Diaz's mother, was rescued on the same day, her husband, Luis Manuel Diaz, remains missing.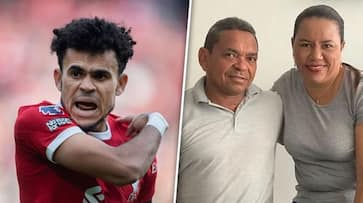 The parents of Liverpool striker Luis Diaz were abducted by a Colombian guerrilla group in Barrancas, located in the La Guajira department, last Saturday. Armed individuals on motorcycles were responsible for the kidnapping. Cilenis Marulanda, Luis Diaz's mother, was successfully rescued on the same day, but Luis Manuel Diaz remains missing.
According to the government, a unit affiliated with the ELN guerrilla group was responsible for this abduction, which occurred last weekend. They made this statement on a platform, formerly known as Twitter, and urged the immediate release of Luis Diaz. It is worth noting that the ELN and the government, led by President Gustavo Petro, are currently engaged in peace negotiations, including a six-month ceasefire that is presently in place.
Colombian authorities have emphasised that no ransom demand has been made in connection with this incident. The government's delegation in the peace talks with the ELN, headed by Otty Patino, issued a statement on Thursday demanding the immediate release of Luis Manuel Diaz and underlining the ELN's responsibility to ensure his safety and well-being.
Attorney General Francisco Barbosa mentioned the possibility that Luis Manuel Diaz might be in Venezuela, though he did not provide further details regarding this matter. It's important to note that the ELN has not claimed responsibility for the kidnapping.
Also Read: Six outstanding managers who declined Manchester United: Klopp, Guardiola, Wenger and more
Last Updated Nov 3, 2023, 2:06 AM IST