Kidnappers set to free the father of Liverpool star Luis Diaz
Kidnappers are on the verge of releasing the father of Liverpool's renowned football sensation, Luis Diaz. The shocking abduction of both his parents had left the Colombian athlete reeling, but with his mother's swift release, there's now a ray of hope for his father's safe return.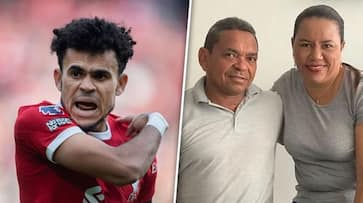 Kidnappers are preparing to release the father of Liverpool's star player, Luis Diaz, in a development that is sure to be the most uplifting news of the weekend. Earlier this week, the distressing revelation that both his mother and father had been abducted had a profound impact on the Colombian footballer. While his mother was promptly released, his father has been missing since he was kidnapped by the Colombian terrorist group Ejercito de Liberacion Nacional (ELN). With the outcome of the situation uncertain, a glimmer of relief emerged on Thursday when the BBC reported that a member of ELN had confirmed that Luis Manuel Diaz would soon regain his freedom.
In light of this update, Liverpool's manager, Jurgen Klopp, as quoted by talkSPORT, emphasised that the decision to play or not would be entirely up to the player himself, stating, "If he feels right, he will be with us. You can see he didn't sleep much. The news from Colombia gives us a bit of hope. I cannot predict what we will do. It's his choice if he makes himself available or not. We won't exert any pressure. We are waiting together for positive news."
On Saturday morning, the most heartening news possible arrived, as the Daily Star reported that ELN had confirmed the initiation of the release process. Although the duration of this process remains uncertain, the confirmation that it will indeed take place offers some solace to the player. Whether Luis Diaz will be in the right mental state to participate in the match against Luton Town on Sunday will likely be determined only on the morning of the game.
Also Read: Manchester United manager Erik ten Hag addresses Marcus Rashford's nightclub controversy after derby defeat
Last Updated Nov 4, 2023, 8:39 PM IST