Champions League Final: 5 reasons why Inter Milan could stop Manchester City from achieving dream treble
Manchester City appears poised to win the UEFA Champions League Title, but Inter Milan should not be underestimated.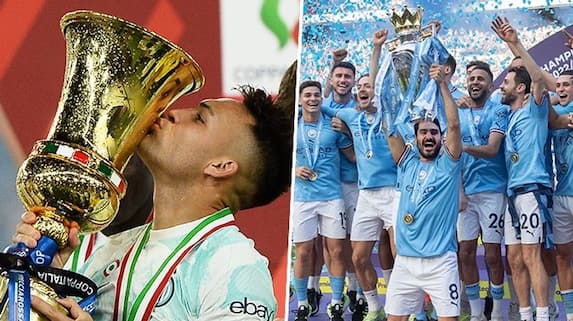 As the Champions League final draws near, there is a prevailing sense that Manchester City will inevitably emerge as the champions. Their dominant performances in the Premier League and FA Cup and convincing victories over Bayern Munich and Real Madrid have left many wondering if anyone can halt their progress. However, it is worth considering that Inter Milan possesses the potential to lift the Champions League trophy, despite not receiving the recognition they deserve. Here are five reasons why they could triumph on Saturday:
Current form and cup record:
Inter enters the final in impressive form, having won seven of their last ten matches, making them the most in-form team in Italy and the highest-performing side among Europe's top five leagues. Under the management of Simone Inzaghi, they have also secured victories in the Italian Super Cup and the Coppa Italia for two consecutive seasons. 
Also Read: Zinedine Zidane rejects PSG approach to replace Christophe Galtier again; sparks meme fest
Defensive suitability:
While Manchester City excels in dominating possession in their opponent's half, Inter employs a different strategy by allowing their adversaries more ball possession through a low-block technique. Utilizing a 3-5-2 formation, with wing-backs dropping into the defensive line and midfielders providing additional cover, Inter is well-equipped to disrupt City's midfield distribution and handle the physicality of players like Erling Haaland in the penalty box. Manchester City has struggled against teams employing these defensive tactics, as demonstrated by their loss to Brentford this season.
Attacking transitions:
Inter Milan who are the second-highest scoring team in Serie A this season, possesses a potent attacking threat. They seamlessly transition from a defensive style of play to successful attacking sequences. With a goalkeeper like Andre Onana known for his distribution abilities and ball-playing center-backs such as Alessandro Bastoni, Inter can initiate counter-attacks from deep within their own half. City may find it challenging to track back against Inter's swift wing-backs and could face difficulties containing the strike partnership of Edin Džeko and Lautaro Martínez, similar to their downfall in the 2021 final against Chelsea.
Also read: Barcelona vows to give Lionel Messi 'proper tribute' after Argentine confirms Inter Miami move
Experience and depth:
Manchester City's successful run can be attributed to their lack of injuries during the final stretch. Similarly, Inter's first team is almost fully fit, with the exception of Joaquin Correa, and they have also welcomed back center-back Milan Škriniar from a back injury. Inter now boasts a considerable depth in their squad, allowing them to alter their starting lineup without compromising quality. Players like Marcelo Brozović and Romelu Lukaku provide ample support from the bench, enhancing their options and flexibility.
Tactical certainty:
Inter Milan have also won the Champions League in 2010, demonstrating their ability to triumph in this competition. On the other hand, City still faces the final hurdle, potentially leading to increased pressure. Pep Guardiola has been known to over-analyze and make questionable decisions in crucial matches, such as omitting defensive midfielders in 2021 final or not starting Kevin De Bruyne in their defeat against Tottenham in 2019. In contrast, Inzaghi is known for adhering stubbornly to his tactics even in adverse circumstances. Inter's clear tactical ideology may pose a challenge to Guardiola's adaptability and could be a determining factor in their quest for another Champions League victory.
Last Updated Jun 9, 2023, 11:34 AM IST