Ginger Cat Appreciation Day 2023: Honoring the vibrant world of Orange feline companions
Join the celebration of Ginger Cat Appreciation Day on September 1, honoring these affectionate felines and promoting animal welfare in memory of Doobert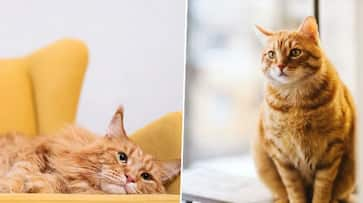 As the air fills with the alluring scent of catnip, it's time to come together and celebrate Ginger Cat Appreciation Day on September 1st. This delightful holiday, founded by American software developer Chris Roy, is a joyful tribute to the charming ginger cats of the feline world. Often misunderstood and incredibly affectionate, these orange furballs are the supercelebrities of the cat kingdom. In addition to honoring our beloved gingers, this day encourages us to connect with stray animals, providing them with the care, food, and shelter they need. So, let's make the most of this special day by petting a stray, indulging in some "Garfield" streaming, and expressing our gratitude for the gingers in our lives.
The Origins of Ginger Cat Appreciation Day: Sometimes, life takes unexpected turns that change our course forever. This is precisely what happened to Chris Roy, a software developer turned passionate animal rights activist. In 1997, Roy stumbled upon a stray cat near his home, and out of compassion, he brought the little feline home to foster for a while. Little did he know that this seemingly ordinary act of kindness would transform his life in profound ways. Over the following weeks, a deep and special bond developed between Roy and the ginger tabby, prompting Roy to give him a permanent place in his home. This 14-pound tabby named Doobert filled Roy's days with warmth and a sense of belonging, becoming an integral part of his life. Doobert lived for an impressive 17 years.
In 2014, the loss of Doobert shook Chris Roy to his core, plunging him into the depths of profound grief. Grappling with the void left by his beloved ginger companion, Roy decided to establish September 1st as Ginger Cat Appreciation Day in memory of Doobert. Furthermore, he launched an online app named Doobert, which connects rescue homes and animal shelters with volunteers worldwide. Since its inception, Doobert has collaborated with over 1,200 organizations across North America, amassing a volunteer base of more than 27,000 pet lovers and enthusiasts. By dedicating this day to the memory of his cherished cat, Chris Roy seeks to raise awareness about humanity's divine duty to care for our furry friends.
ALSO READ: What is Stuttering? Here's everything you need to know
Celebrating Ginger Cat Appreciation Day: With the annual celebration of Ginger Cat Appreciation Day, we pledge to carry Doobert's loving spirit with us and spread the message of animal welfare across the globe. On this special day, let's reach out to our local shelters, feed the stray cats in our communities, and raise a toast to the incredible companionship that our pets provide us.
Ginger Cat Appreciation Day, established in memory of the unforgettable Doobert, is a day to celebrate the vibrant and loving ginger cats in our lives. It is also an opportunity to extend our care and compassion to stray animals, embodying the spirit of kindness and empathy towards all living creatures. As we mark this annual occasion, let us remember the profound impact that our furry companions can have on our lives and continue to work towards a world where all animals receive the love and care they deserve.
ALSO READ: Health Secrets of Figs: 6 reasons to indulge in this nutrient-packed fruit for a balanced lifestyle
Last Updated Sep 1, 2023, 5:13 PM IST