Diwali 2023: Kali Puja meaning, significance, timings and puja vidhi
Explore the profound significance of Kali Puja, a Hindu festival honoring Goddess Kali, symbolizing the divine feminine's transformative power. Discover rituals, timings, and the mythological tale behind this unique celebration.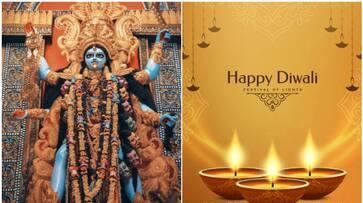 Kali Puja, also referred to as Shyama Puja, stands as a significant Hindu festival devoted to the worship of Goddess Kali. In contrast to the widespread reverence for Goddess Lakshmi during this period, In West Bengal and some other eastern parts of India, Kali Puja is celebrated on the auspicious new moon night of the Ashwin month. Goddess Kali symbolizes the fierce and transformative aspects of the divine feminine, representing the destruction of evil, the passage of time, and the primal force of creation and destruction. This festive occasion is alternately recognized as Kojagar Puja or Bengali Lakshmi Puja, marking a distinct cultural and regional celebration that deviates from the more prevalent worship practices associated with Diwali.
Kali Puja Significance
In mythological lore, the genesis of Kali Puja is rooted in the tumultuous activities of two asuras, Nishambhu and Shambu, who wreaked havoc in heaven. This turmoil prompted a cosmic battle, resulting in the defeat of the gods and the empowerment of the demons. Seeking resolution, the gods invoked Goddess Durga, and in response, Kali emerged from Durga's forehead, embodying a fierce force to restore equilibrium in the universe.
Goddess Kali, fueled by her determination to save the earth, unleashed a relentless rampage, annihilating demons with ruthless efficiency. She adorned herself with a garland crafted from the decapitated heads of the vanquished, symbolizing her power and victory.
Witnessing Kali's wrath, other deities implored Lord Shiva to intervene. To pacify the relentless goddess, Lord Shiva laid down in her path. When Kali inadvertently stepped on him, her rage subsided, and her tongue protruded in realization, signifying her unintended act of stepping on Lord Shiva and dispelling her anger.
Since that moment, Goddess Kali has been venerated with her tongue out, and she is depicted with a necklace of skulls and four arms, one wielding a sword and another carrying the head of an asura.
Kali Puja Timings
The celebration of Kali Puja is scheduled for November 12 this year. The Amavasya Tithi is set to commence at 02:44 p.m. on November 12 and conclude at 02:56 p.m. on November 13. The auspicious Kali Puja Nishita Time spans from 11:39 p.m. on November 12 to 12:29 a.m. on November 13.
Vidhi for Kali Puja
The worship of Maa Kali occurs in two distinctive forms – the fierce, black-clad Shamshan Kali and the serene, blue-hued Shyama Kali. Kali Puja rituals predominantly unfold during the nocturnal hours. Devotees illuminate ghee lamps and present red hibiscus flowers, considered the goddess's favorite. Offerings of sweets, fruits, dry fruits, flowers, and jaggery are made to seek the blessings of Maa Kali, invoking prosperity, health, and tranquility for the family.
ALSO READ: Diwali 2023 decor: Classic lamps to glass jar lanterns, illuminate your home, public spaces
Last Updated Nov 12, 2023, 8:00 AM IST