Hassan: Police raid on district jail; Mobile phones, weed and other banned items seized
A major police operation led by Hassan ASP Tammayya raided Hassan district Jail, seizing mobile phones, weed, and cigarettes due to suspicions of illegal activities. Inmates reportedly used smuggled mobile devices for communication with outside sources, prompting the crackdown.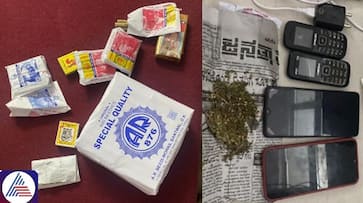 A major police operation took place at Hassan district Jail on Friday night following suspicion of illegal activities. Led by Hassan ASP Tammayya, about 60 police personnel conducted a midnight raid and seized mobile phones, weed and cigarettes from the jail.
The raid took place around midnight on Friday and the police have said to have found banned items in the jail. The crackdown was prompted by reports of drugs entering the jail illicitly from outside sources. 
The jail inmates were reportedly using smuggled mobile devices to communicate outdoors, often by paying for the service of keeping in touch with their family and friends.

Mangaluru: Police seize 100 kg drug-laced chocolates from two shops
The decision to conduct the raid was based on careful observation and specific information. The operation aimed to uncover and stop any illegal activities happening within the jail. 
Rumours were spread about drugs being supplied to this prison from outside. In addition, there is a mobile system for those inside the jail to connect with people outside. 
Suspicions arose that the prisoners paid money and family members were allowed to talk freely with the prisoners. The raid was conducted under the guidance of Hassan SP Hariram Shankar, at the District Jail on BM road at Hassan.
Last Updated Aug 19, 2023, 12:13 PM IST