Bengaluru Police arrest two for blackmailing woman with private video
Two individuals, Kiran and Nayana, owners of a hotel in Kengeri, Bengaluru, were arrested for secretly recording and blackmailing a 22-year-old woman with explicit photos and videos taken in their hotel room. The victim filed a complaint, leading to their apprehension by Chandra Layout police.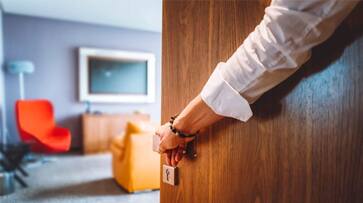 The Chandra Layout police in Bengaluru have arrested two individuals, Kiran (28) and Nayana (44), both residents of Kengeri. They were apprehended for blackmailing a young woman by sending a private video to her mobile phone. A case has been registered, and both accused have been arrested following a complaint filed by the 22-year-old victim.
Kiran and Nayana jointly own a hotel on Kenchanpur Kengeri's main road. The victim, a 22-year-old MBA student studying at a private college in the city, visited their hotel with a friend and had some private moments. Without her knowledge, Kiran secretly recorded these moments and sent explicit photos and videos to her mobile phone, later deleting them.

Bengaluru: Manufacture of counterfeit shoes under brand names like Nike, Puma; arrested
Subsequently, Kiran began calling the young woman, demanding one lakh rupees, and threatening to expose the private photos and videos taken in the hotel room. He also warned that he would share the explicit content on social media and send it to her relatives and friends. Kiran persistently harassed the young woman for money. Frustrated and with no other option, she went to the Chandralayout police station and filed a formal complaint. In response, the police conducted an operation that led to the arrest of both accused individuals.
Importantly, one of the hotel's owners, Nayana, is closely related to the victim, who was a frequent visitor. During the victim's recent stay at the hotel with her friend, Kiran secretly placed a hidden camera in the room to capture their private moments. Nayana was aware of this. Kiran subsequently hatched a plan to extort money from the victim using the secretly recorded video.
Last Updated Sep 16, 2023, 11:20 AM IST