No prayers at Eidgah and burial grounds: Jumma Masjid Trust Board

Thousands of Muslims, who used to flock Masjids, Eidgah and burial grounds, have been asked to stay indoors and offer prayers from home as all these places will be shut due to lockdown. The Jumma Masjid Trust Board has said that it stands with the Karnataka government.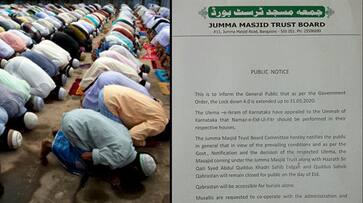 Supporting Karnataka government's lockdown order, the Jumma Masjid Trust Board has announced that this time Eid prayers during Ramzan will not be held in Jumma Masjid Eidgah Maidan. There shall be no visit to burial grounds too as the trust board has decided to lock the gates.
The board has also has asked the community members to offer Eid prayers at home.
The community elders have already communicated to the Masjids across the state to announce in the loud speaker about the decision to offer prayers from home this time as it's a government rule that needs to be respected and followed.
The leaders and elders have also appealed to the community members not to spend money on shopping and instead spend on grocery and food to help poor migrants stuck due to lockdown.
As it is a tradition to visit the grave and offer special prayers to the departed souls, the board, which is the custodian of Khuddus Sab burial ground on Nandidurga road, asked members to stay away as they will not be allowed.
According to the board, the burial ground will be open only for the purpose of last rites. To ensure youths stay away from roaming near burial grounds, the board has informed the jurisdictional police to guard and punish those who break rules.
 
Last Updated May 23, 2020, 2:20 PM IST