Kalamassery Blast: Kerala police warns those spreading fake news on social media to promote communal hatred
Kerala police issued warnings against fake news on social media regarding the Kalamassery blast. The blast claimed the life of a woman and several others were injured during the Jehovah's Witnesses meeting at a conventional centre on Sunday (Oct 29).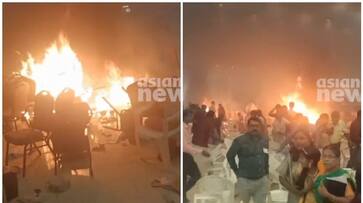 Kochi: The Kerala police on Sunday (Oct 29) issued a warning to those spreading false and fake news on social media to promote hatred. An IED blast rocked a convention centre in Kalamassery in the Ernakulam district of Kerala, killing a woman and injuring over 30 others. The blast went off at 9:45 a.m. on Sunday (Oct 29). The injured have been shifted to Kalamassery Medical College. 
As many as 35 people are undergoing treatment and seven people are admitted to the ICU Two are reportedly in critical condition. According to preliminary information from police sources, traces of low-intensity explosives have been found. Latest reports suggest that IED bombs brought in tiffin boxes exploded as its traces have been found. 
Also read: 'Price of appeasement politics...' BJP slams CM Pinarayi Vijayan over Kalamassery blasts
The blast took place during a meeting of Jehovah's Witnesses. According to eyewitnesses, around 2,000 people had been participating in the religious congregation when the explosion went off. Fire force personnel and senior police officials are on the explosion site.
Chief Minister Pinarayi Vijayan said that the explosion in Kalamassery was an extremely unfortunate incident. Other details are being verified. Police officials from Ernakulam have reached the spot. The DGP has set off to Ernakulam. The Chief Minister said that other matters are being collected.
Last Updated Oct 29, 2023, 2:51 PM IST