Hindus visiting Ayodhya's Ram Temple will come out as Muslims: Old video of Javed Miandad goes viral (WATCH)
Two months before the grand opening of the Ram Temple in Ayodhya, an old video featuring former Pakistan cricket captain Javed Miandad's claim that the new Ram Temple in Ayodhya will lead Hindus to convert to Islam has gone viral on X.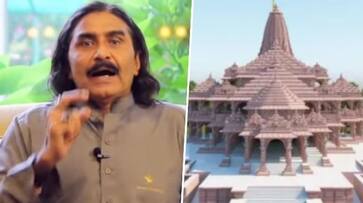 As the inauguration ceremony of the grand Ram Temple in Ayodhya approaches, videos disparaging the temple and casting doubt on its significance have begun circulating on the internet. One of these videos features former Pakistan cricket captain Javed Miandad asserting that the new Ram Temple will lead to Hindus converting to Islam.
Also read: 'Proud Sanatani' Danish Kaneria hopes to visit Ayodhya's Ram temple; shares view on Indian citizenship (WATCH)
"Those Hindus visiting the Ram Mandir in Ayodhya will come out as Muslims. It is our firmly held belief that our faith (Islam) will shine its light on those who visit places that are connected to our roots. Modi may have done wrong by getting the Ram Mandir built in Ayodhya, but it will work as a blessing in disguise for us. I have full faith in Allah that this will be the place from where Muslims will once again rise," Miandad stated.
Significantly, Miandad uploaded the video on August 8, 2020, three days after the historic Bhoomi Poojan ceremony of the Ram Temple, officiated by PM Modi. The complete video can be viewed here:
Remarkably, the video has gained widespread attention on social media two months before the scheduled Pran Pratishtha ceremony at the newly erected Ram Temple in Ayodhya. The consecration ceremony is set to take place on January 22 next year and PM Narendra Modi will take part in it. Distinguished sages, notable figures, and numerous devotees have received invitations to attend the consecration ceremony.
The chairperson of the Ram Mandir construction committee, Nripendra Mishra, has recently confirmed that the construction of the ground floor of the three-story Ram Mandir in Ayodhya is on track for completion by the end of December this year.
Also read: PM Modi likely to carry Ram lalla to newly built Ayodhya Ram Mandir: Report
Last Updated Nov 17, 2023, 3:32 PM IST