Is it safe to reopen schools? Here's what Karnataka Education Minister B C Nagesh says
Karnataka Education Minister B C Nagesh speaks exclusively to Asianet Newsable about the decision to reopen schools for students from classes 9 to 12, decision to implement NEP and more.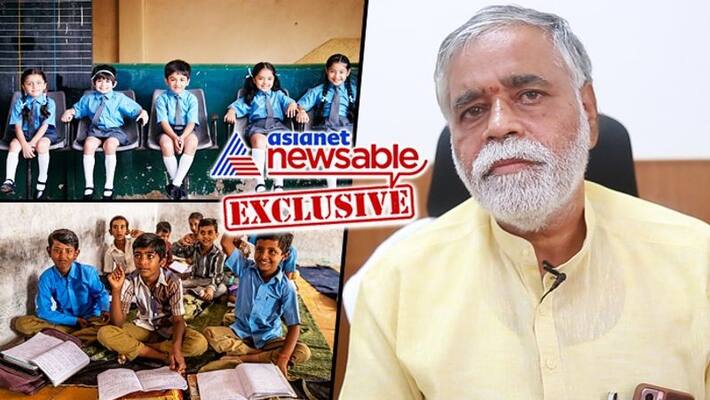 Is it safe enough for children to be going to schools? Especially when the threat of a possible third wave of Coronavirus looms large? This is the question that many parents have been asking ever since gates of schools in Karnataka were opened for students from classes 9 to 12. Besides, pre-University colleges were also reopened.
To understand the rationale behind this unlock decision, Asianet Newsable reached out to Karnataka's Primary and Secondary Education Minister, BC Nagesh.
The Minister told Asianet Newsable that all standard operating procedures were being followed to ensure the safety of students. 
He also spoke about the state's decision to implement the National Education Policy and the Opposition's allegation of distortion of history in the school curriculum.
Here are the edited excerpts:
What were key suggestions made by the task force concerning the reopening of schools?
They (expert committee) asked us to maintain the Standard Operating Procedures. According to their studies, and the report from the paediatricians, the infection rates are very less.
They have even tested 6,472 children, and out of them, only 14 tested positive, which means the rate of positivity is very, very less.
A study among poor and students from rural communities also said that over 50 per cent of students in online education have not benefited due to technical reasons. In some houses, students may not be having smartphones, and all such reasons are there. Even in the government survey, more than 30 per cent of students did not appear for the online classes.
So we targetted that class, particularly the poor who did not have any facility to attend online education. So, the department was waiting for offline classes. But we were waiting for the reports from the technical team. The technical team met many times and decided to open the schools considering the lower infection rate among the children and also in the state.
The positivity rate in Karnataka is less than 1 per cent in many districts, while only five districts have shown less than 2 per cent. They (committee) advised not to open schools in those five districts. The high schools and colleges up to second-year pre-university have opened. 
Watch this entire interview below
What sort of protocols are in place to ensure the safety of students and school staff?
In general, particularly in government schools, more than 60 to 70 per cent of schools have good infrastructure. So maintaining distance is not at all a problem for us and our classrooms are also big. We have instructed them to put only 15 to 20 students in a classroom.
All teachers should wear masks, and they should be vaccinated. Of the 2.61 lakh teachers in the state, 2.50 lakh have been vaccinated. At least 1.41 lakh have been vaccinated with both doses. Considering all these things, I think it is safe (to reopen schools), and if an alarming situation arises, the government has every right to take an appropriate decision.
What contingency plans does the government have in case of infections re-emerge after educational institutions?
We have asked all district administrations to see that SOPs are maintained properly. In case anything goes wrong (cases are seen among children), the taluk officer should ensure the reservation of beds, especially for the children, arrange ventilators etc., and many taluks have done it (in advance).
Many taluks did not even have a 2 per cent positivity rate at the time of peak during Covid first wave, second wave, and at present. Considering all this, I do not think there is a risk factor. If we feel there is any amount of risk, we will give the same amount of importance to children, particularly on their education and on health.
Every day, we are monitoring things, and every deputy director of public instruction and block education officer should report every evening on this. They will check if any students are asymptomatic or not. Precautionary measures have been taken to ensure only one student per bench is allowed. And every Saturday, the classrooms for 6, 7 and 8th are sanitized.
We have also asked the institutions to close for one week after sanitization if any cases are detected.
According to a study, over 40 per cent of parents are unwilling to send their children to school until the vaccination process is completed. How is the government allaying the fears of the parents and persuading them?
We have given options to parents. We have not made it compulsory to attend school. We started reopening schools considering their welfare. We told them about preventive measures that have been taken. Students, particularly in rural areas, have faced issues of lack of internet facilities and smartphones. 85 to 90 per cent have reported back to schools. Targeted groups are coming, and we have achieved whatever is necessary.
Karnataka is the first state in the country to implement the National Education Policy. How does the state intend to implement it?
Our leader, Narendra Modi, wants value-based education. This was the aim of many freedom fighters, many country-loving leaders who wanted a series of changes in the education system. Even Gandhi, specifically and Vivekananda, said that our education system is not the swadeshi-based system.
It was the Britishers who drafted for some other purposes. So all freedom fighters, including Rabindra Nath Tagore, Vinoba Bhave and everyone, were saying that we should have a change in the education system, which gives value-based education and importance for the skills. Narendra Modi wants their dreams to be realized.
Now the bottom-to-top approach has been started. The states have been asked to design the curriculum. After getting inputs from states, a common curriculum will be done. Based on the requirement and thinking of the state, the curriculum will be drafted. 
In Karnataka, we had a better education system even before the NEP. We had executed many changes in 1968 and 1986. Our literary rate was a little high compared to other states. We had a better system. So it was easy for us to implement. Based on the task force report, we will decide on the curriculum for primary and secondary education.
A neighbouring state like Tamil Nadu, which used to focus on Tamil as a medium of instruction, is now looking at English. Karnataka is giving importance to Kannada. Will this impact students' skills?
Technicians and experts in child education were saying that early education should be in the mother tongue as they can understand better and 90 per cent of education being imparted in the world is in the mother tongue. This is not a new demand, but one that has been since independence.
Eighty-five per cent children's brain grows at the age of 6. They start acquiring knowledge from that age, and the best medium of instruction at that age is the mother tongue.
Every now and then, the BJP faces the allegation of an attempt to tweak History. Many educationists say BJP is hell-bent on making changes with the History of Tipu Sultan and Mughals. What do you have to say about this allegation?
Whenever BJP speaks reality, some people will also oppose it. Reality cannot be denied by uttering false words many times. Today or tomorrow, reality has to come out. The History books are not written by the BJP. BJP came to power only recently, but History was written long back. It is the vote politics that Congress is doing, and it is again doing the same with Tipu Sultan.
In Assam, the government has withdrawn support to Madrassa education, saying that the children do not progress, and has merged them with English schools. What is your take? Do you think something similar should be done in Karnataka?
This was the demand from the 'mothers' from that (Muslim) community. They wanted their children also to compete with other (community) children in the country. So Assam may have taken the decision (because of that).
Will the government also arrive at the decision to reopen schools for classes 1 to 5?
After taking the feedback from 6 to 8 (class students, parents and expert committee), we are going to do that (decision on reopening for class 1 to 5).
Also Read:
'Covid has a rude behaviour; We cannot lower guard at least till December'
'Third wave is a real threat; mask up and get vaccinated'
Last Updated Sep 3, 2021, 8:25 AM IST