Bengaluru Kambala: Invitation to accused MP Brij Bhushan Singh sparks outrage on Social media
Controversy looms over the Bengaluru Kambala event as MP Brij Bhushan Singh's invite sparks outrage due to sexual harassment allegations. Accused by wrestlers, Singh faces FIRs and protests, yet received an invite. Social media erupted in criticism, questioning ethics and support for accused individuals. The event's decision raises ethical concerns amid public uproar.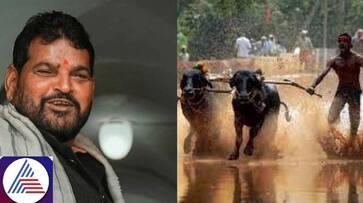 The upcoming Kambala event slated for November 25 and 26 at Bengaluru's Palace Grounds has sparked controversy amid uproar over the invitation extended to MP Brij Bhushan Singh. The decision to include Singh in the Bengaluru Kambala Sunday Sabha program has faced significant opposition owing to allegations of sexual harassment levelled against him by wrestlers in the past.
Singh, the former head of the Federation of Indian Wrestlers, has been accused by women wrestlers who came forward with allegations of sexual harassment against him. Their widespread protest garnered national attention and raised questions regarding the government's silence on the issue. Furthermore, the police's action in dispersing the protesting wrestlers was heavily criticized, with many demanding Singh's arrest in connection with the alleged sexual misconduct.

Aishwarya Rai, Anushka Shetty to attend Bengaluru Kambala at Palace grounds
The Delhi Police registered two FIRs and received ten complaints accusing Brij Bhushan Singh of sexual harassment, citing instances where he purportedly touched the wrestlers inappropriately, rubbed their backs, and allegedly stalked them. Charges have been filed under IPC Sections 354A, 354D, and 506, with a charge sheet already submitted.

Will Bengaluru's Kambala set new record with longest Kambala track? Check details
Despite the controversy, he was extended an invitation to the event by an organization representing the Siddi community, with Puttur MLA Ashok Rai, the event organizer, confirming the invitations extended to various community leaders, including Singh.

The move to invite Singh has been met with criticism and backlash on social media platforms, as netizens express outrage over his inclusion in the event given the serious allegations against him. This decision has sparked debate and raised questions about the event's ethical stance and support for individuals facing such allegations.
Last Updated Nov 21, 2023, 3:33 PM IST